This Is The Newly Redesigned Hyundai i10 Sedan (Photos)
Masterclass auto producer, Hyundai, has revealed a newly redesigned Hyundai i10 Sedan and this latest version looks to be more compatible compared to the previous version  (i10 hatchback).
This newly redesigned version is surely for you especially if you are a lover of compatible cars with lockable security of a boot.
Hyundai i10 sedan comes with a bumper-to-bumper measuring up to 140 mm longer as against the i10 hatchback, with a total vehicle length of 3.81 m. This however means that is will have the ability to absorb impacts in mirror collision and ideally minimizing your repair cost.
This new design is targeted primarily at emerging markets and looks slightly different from a European or Korean specification of i10 hatchback. It features boomerang-shaped LEDs, in the corner of its grille, a feature which is broadly similar to the latest lighting design on Hyundai's new Tucson.
The styling is even more adventurous around the rear, with the boomerang-shaped theme creating dramatical outlines for its taillamps.
This  new i10 looks to be more advantageous  when it comes to utility compared to the i10 hatchback, where the five-door has 260-litres of luggage space and extra room for a roof bag, this updated sedan version can accommodate  up to 402-litres
The interior also has been redesigned and customers will have a choice of either black of bronze dashboard trim, which gives an opportunity to enliven the cabin architecture a bit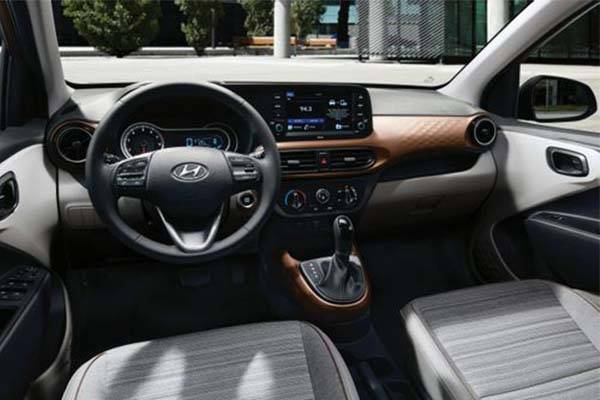 Powering the updated Grand i10 sedan are two 1.2-litre engine options, paired to either a five-speed manual or four-speed automatic transmission.
In addition to this, there is also a turbodiesel 1.2-litre CRDi engine, producing 56 kW and 190 Nm, which should offer a superior blend of mid-range performance and economy.