VW Launches Electric ID.4 Crossover With An Impressive 250mile Range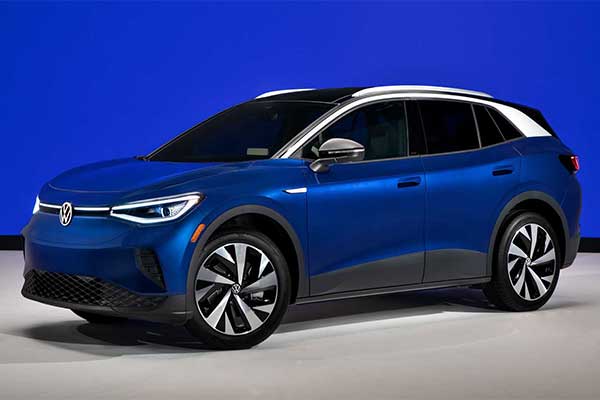 It is quite obvious that VW is leaning towards full electrification as they have launched the ID.4 crossover which seems impressive all round. Volkswagen took its time in the making this Crossover and based on the success of the ID.3, VW hopes this vehicle will gather more sales. In addition, one of the selling points of this vehicle is its impressive 250-mile range. This will come a long way in an already saturated market.
The exterior is very similar to the ID.3 hatchback as both cars are based on the company's new MEB platform. Its design is smart and attractive with curves all over giving it that friendly look. With no front grille to speak of save a bumper-mounted cooling intake, the front end is sleek and crisp. Furthermore, the rearview is as neatly styled as the front. The full-width LED taillight panel includes some of the same geometric inlays as the headlights, interrupted in the middle by another illuminated VW logo.
Read More:

Volkswagen Unveil Golf-size Battery-powered ID.3 Hatchback
On the interior is a spacious set up with all the modern tech you can think of. A 5.3-inch digital instrument display emerges from the steering column that features three reconfigurable tiles. The tiles show the most important information, with the battery's state of charge and range showed underneath. On top of that, there's a 10.0 inches display for the base model and 12.0 inches for the upper scale Statement trim which controls all other features.
The ID.4 will be offered with an 82-kWh battery and a rear-mounted AC electric motor producing 201hp and 228 lb-ft of torque. in addition, a more powerful all-wheel-drive version of the ID.4 with 302 hp will launch later in 2021. The battery of the ID.4 is positioned underbody to create a low centre of gravity and optimize the driving dynamics. In the ID.4 1st Edition, this setup will provide a range of 250 miles based on the EPA cycle.