Top 13 Facts About The Infamous Nürburgring Race Track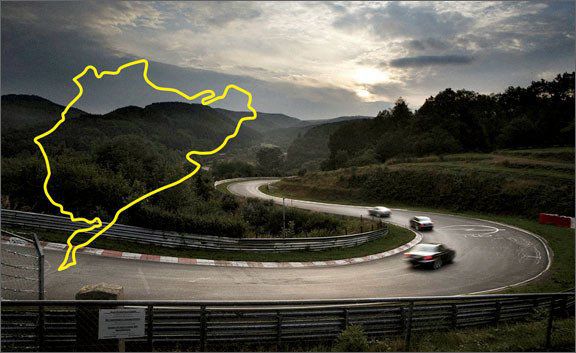 The Nürburgring Nordschleife is one of the most iconic racing tracks around . It is the ultimate and most challenging track for any amateur and professional racers from all over the world.
Here are some amazing facts you need to know about this spectacular racing track
1) Nürburgring is a 150,000 capacity  motorsports complex located in the town of Nürburg,  Rhineland-Palatinate,  Germany.
2) The Nürburgring was constructed to ease unemployment in the Eifel region of North West Germany. Over 25,000 people were utilised in the construction between 1925 and 1927.
3) The track consists of a staggering 14.1 million Reichsmarks to construct. In todays money this roughly translates to €36 million.
4) It originally consisted of 14.2 miles of Nordschleife and a 4.8 mile Sudschleif. The Nordscheife (Northern loop) has since been shortened to 12.9 miles, with parts of the Sudschleife (south loop)  becoming the new Nürburgring Formula 1 track in the early 1980's.
5) The Nordschleife is a toll road open to the general public. It is only closed during testing events, races and due to inclement weather.
6) The fastest lap to date on this 12.9 mile track was set by Stefan Bellof. In 1983 ,when he drove a Porsche 956 around in 6 min 11.13 secs averaging 125.6 mph. Previously in 1975 on the 14.2 mile track, F1 Champion Niki Lauda posted 6 mins 58.6 secs in a Ferrari 312T averaging 122mph.
7) Approximately 305m (1,000ft)  separates the highest and lowest points of the racing circuit.
8) The lap record for a production car belongs to Michael Vergers, who put together a 6.48 lap in a Radical SR8LM. Truly a machine that pushes production car terminology to the extremes.
9)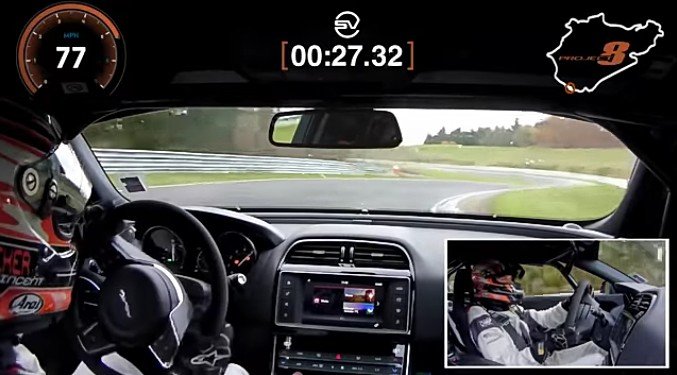 In 2017, the Jaguar XE SV Project 8 became the fastest four-door ever around the Nürburgring.
It clocked a lap time around the 12.9-mile (20.7 km) circuit of 7 minutes and 21.23 seconds, almost 11 seconds quicker than the previous sports sedan to hold the record.
10) There are 33 left hand bends and 40 right handers according to the official website,which makes it extremely complex and challenging.
11) While it is unusual for deaths to occur during sanctioned races, there are many accidents and several deaths each year during public sessions. It is common for the track to be closed several times a day for cleanup, repair, and medical intervention. 
12) At €23 per lap (about N10,200) , drivers still need to be aware that German road regulations strictly apply. This means overtaking is only allowed on the left and "posted" speed limits do apply.
13) Should a driver have an accident and damage any of the Armco barriers,he/she or his/her surviving family will end up footing the bill. Should the track be closed for an extended period ,then the driver/family will also foot the bill for that too.
The Nürburgring continues to be the most difficult and demanding racing circuit in existence and that's why it's dubbed by so many as "the Green Hell."