Toyota Showcases Compact Cruiser EV Concept That Gives FJ Cruiser Vibes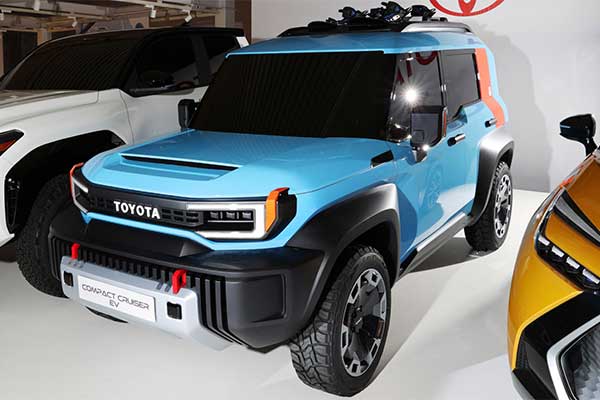 During today's massive 15-concept rollout, Toyota has unveiled a pretty cool-looking electric model that caught our attention. The Toyota Compact Cruiser EV is an off-road-focused SUV with compact dimensions that is borrowing several design features from the legendary Land Cruiser heritage.
From afar it's clear what it is: a reborn FJ Cruiser, albeit smaller, electric and almost certainly a crossover. The front end styling is unmistakable even if the trademark round headlights have been swapped out for more modern LED units. The profile indicates a more conventional squared-off rear end and four proper doors. The FJ Cruiser had rear-hinged half doors. It also barely looks like a concept. If Toyota doesn't build something that looks 90% like this, we'd be stunned.
An image of its interior that could be captured during the unveiling of the Toyota Compact Cruiser EV reveals a digitized front panel with a floating screen infotainment system, digital instrument panel and a peculiar steering wheel due to its shape.
There is not much to say about its mechanics yet as there is no data provided by the manufacturer. It would be built on the latest dedicated TNGA EV platform. It is very logical that the model has a four-wheel-drive system with one or two electric motors.
In terms of market placement, the Compact Cruiser could be an electric rival to the Ford Bronco Sport as another rugged-looking SUV based on a mainstream unibody chassis. Another direct rival could be the next generation of the Jeep Renegade, especially if it gets a fully electric variant.