Watch:Driver Escapes Before Massive Sinkhole Swallows Her Toyota RAV4 SUV In Colorado
Watch the moment a massive sinkhole swallowed a Toyota RAV4 SUV into a running water and mud. It was the same spot where another sinkhole swallowed the patrol SUV of a Sheridan Sergeant in June 2015.
The driver, Ashley Marisch, was able to get out just before her Toyota RAV4 was swallowed and she's thankful for the help she got from a stranger.
She said :
"Man came over and said you need to get out of your car"
"I thought it was a big pothole. I didn't expect for it to be a sinkhole. And then the right side of the car went down and then I was able to get out.
"Very scary, very surreal. I just keep thinking about the person who helped me out."
Sheridan police shared a photo showing the submerged SUV 15-20 feet down .

The totaled SUV was finally pulled out of sinkhole after four hours of digging with giant machines. It was about 20 feet down, covered with mud and debris.
See their tweets after the totaled SUV was removed from the hole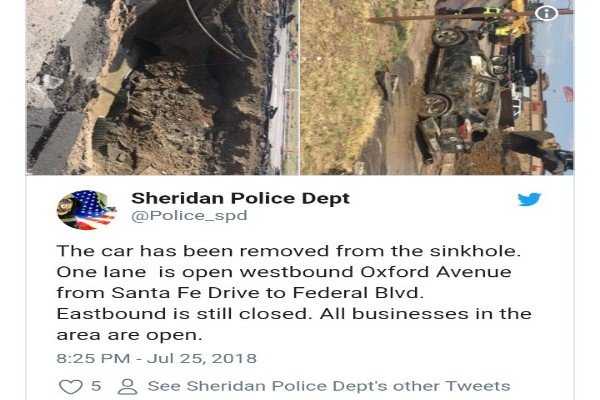 Sheridan City Manager said the rain that fell night before the accident busted a pipe under the road. The water washed away 15 feet of dirt, gravel and compact earth meant to support the road above.
WIth nothing to support the pavement and heavy vehicles driving over it, the affected section of the street later collapsed.
The police closed the road in both directions to let crews inspect the damage. They were concerned that a damaged gas line could rupture.
They eventually reopened a single lane while the crews work to repair the road.
A similar scenario happened in northern China on October 1 2017 when a sinkhole swallowed a luxurious Rolls-Royce Phantom.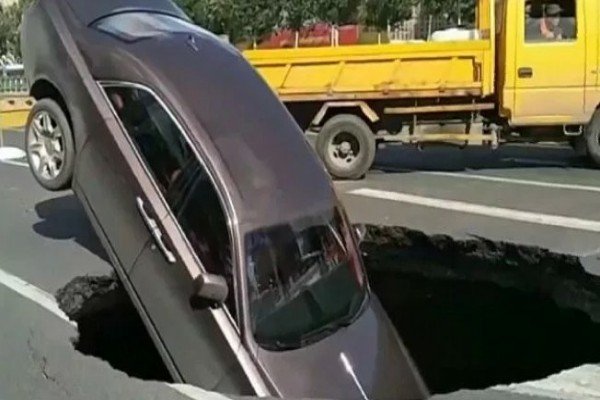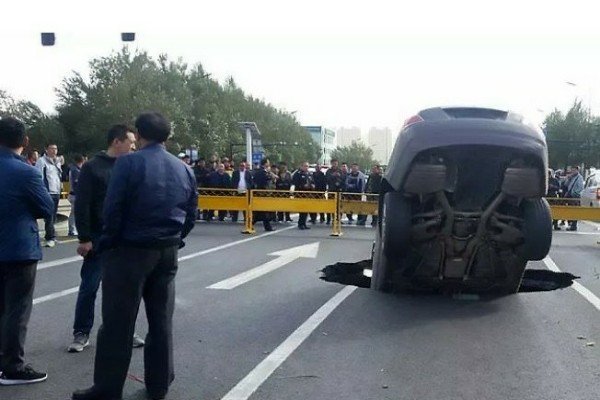 The driver said :
"I was waiting for the green lights and the second I started the car, the road surface started to collapse."
The driver was reported to suffer no injuries and the N268million Naira ( 5,000,000 yuan or £565,000) car was pulled up by a crane.