You Can Now Convert Your Old Volkswagen Beetle To An Electric Car (PHOTOS)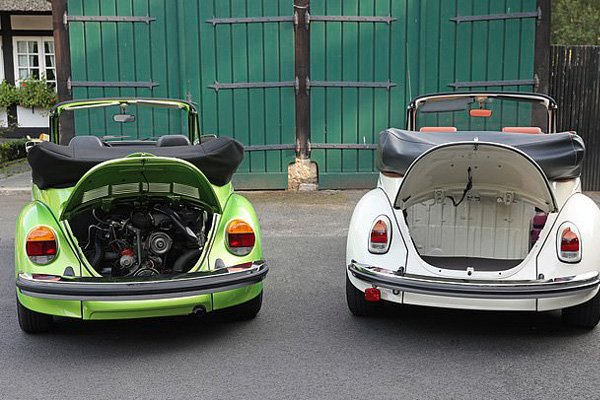 You can now convert your old Volkswagen Beetle to an electric car.
Yes. The classic old Beetle is back, and it is electric. Just when you thought the iconic Volkswagen Beetle had gone for good, it re-invents itself.
Volkswagen recently launched a conversion kit that transforms an old Beetle car into a new age electric car that you can charge at home. Volkswagen teamed up with specialist firm eClassics based in Germany to provide the official conversion kit.
So if you have one of those old Beetles, you now have the chance to future-proof it by swapping out the internal-combustion engine and replacing it with a battery and electric motor. The conversion kit is made up of the electric motor, battery, and gearbox.
The electric version has a range of 124 miles, and puts out 81bhp, accelerates to 50mph in 8 secs and has a top speed of 93mph.
To convert an old Beetle to an electric one, the company will extract the Beetle's air-cooled flat-four-cylinder engine and replace it with the electric drivetrain
This additional attachment surely increases the weight of the car. A conventional Beetle weighs around 800kg, while an electrified version measures in at closer to 1,300kg,
Despite the added mass,  the electric Beetle will be faster to drive than the one with a petrol motor. The 81bhp electric power source should make the Beetle accelerate from a standstill to 50mph in eight seconds and onto a top speed of 93mph. The claimed range is 124 miles and it can be charged to 75% capacity in an hour.
Now, here is the downside. For now, to get your old Beetle converted to an electric version, you would need to arrange for it to be transported to Germany for the company to fit the zero-emission drivetrain.
The production of the Volkswagen Beetle began in 1938, with 21 million Beetles built throughout the car's history.
The production of the original Beetle came to an end in July 2019 when the final example rolled off the Puebla factory assembly line in Mexico.