Your Vehicle Can Be Impounded If You Neglect This Traffic Direction (Photo)
The Lagos State government from onset has been stern with traffic laws in the state. You may end up where don't like if you fail to keep to these traffic laws.
The Lagos State government in a Tweet notified the general public the consequence of neglecting traffic directions. Neglecting traffic directions can lead to impounding your vehicle.
See the tweet of the Lagos State government below;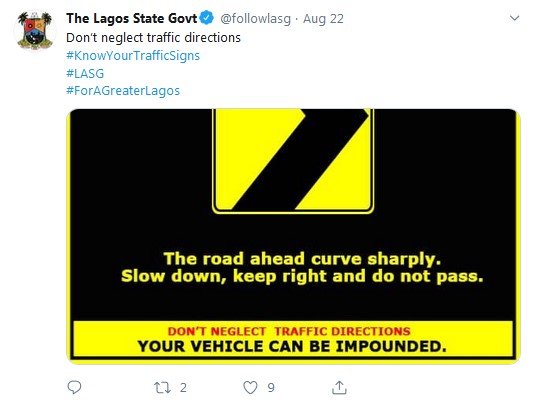 It reads;
The road ahead curve sharply.
Slow down, keep right and do not pass. DON"T NEGLECT TRAFFIC DIRECTIONS
YOUR VEHICLE CAN BE IMPOUNDED.






There are about 36 traffic laws in Lagos state. In case you don't know them, kindly go through our post on "List Of The 36 Lagos State Traffic Offences And New Fines"so you don't become the next victim.