Would You Buy This 1981 Toyota FJ Land Cruiser For N73million? (Photos)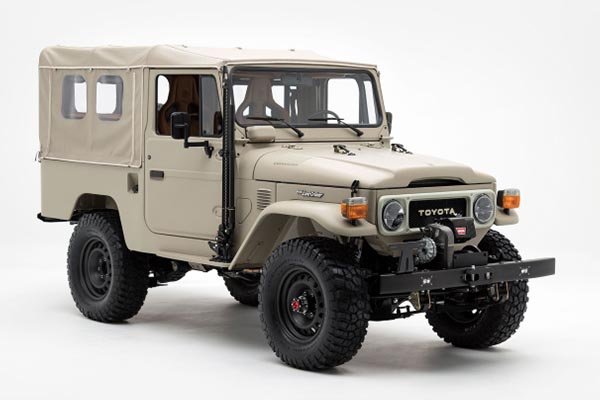 This 1981 Toyota FJ Land Cruiser is the ultimate classic Land Cruiser for adventurers. It's built by The FJ Company which specializes in building classic Land Cruisers.
It get the original 1976-1983 Toyota FJ43 chassis with new Toyota 1GR-FE engine and a Toyota 6-speed manual transmission. This 4.0L V6 generates an estimated 240 hp. More power, comes more responsibility. That's why it's been outfitted with a custom suspension system and 4-wheel disc brakes.
The seats are comfortable and heated. You'll find bolstered RECARO Sport seats in the front, and traditional jump seats in back. To get a taste of that brisk mountain air, roll back the canvas sunroof and windows. Or use the center console-mounted iPad mini to shut the rest of the world outside and listen to your favorite tunes via the Signature sound system.
List of features
Custom soft top, removable sides
17″ Toyota steel wheels
BFGoodrich Mud-Terrain tyres
FOX shocks
Stainless steel exhaust
2017 Toyota 4Runner 4-wheel disc brakes
LED headlights
Custom side mirrors
Custom Toyota front bumper
LED fog lights by Baja Designs
48" Hi-Lift® jack
Jerry-can
Digital cluster
Backup Camera
Heated, rear jump seats
Leather-wrapped steering wheel
Custom center console with iPad mini dock/adapter
Signature sound system
Custom Vintage Air A/C and heater
Trailer hitch
See Related Post Toyota Land Cruiser Somersaults At Stadium, Lagos (Photos)
See Related Post Toyota Land Cruiser Somersaults At Stadium, Lagos (Photos)