"I Used My Cutlass To Cut Him Many Times": 20-Year-Old Suspect Who Lured And Killed Bike Rider.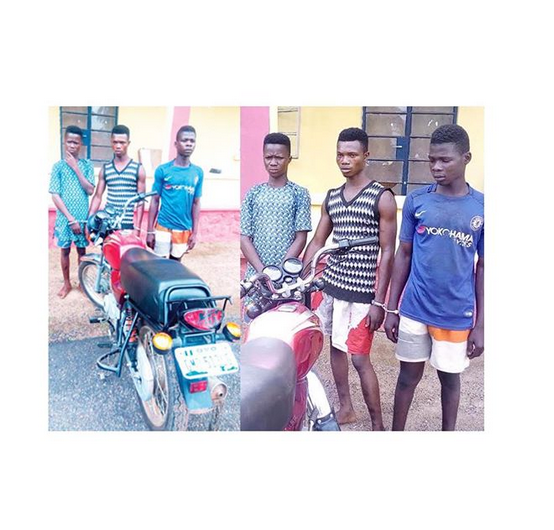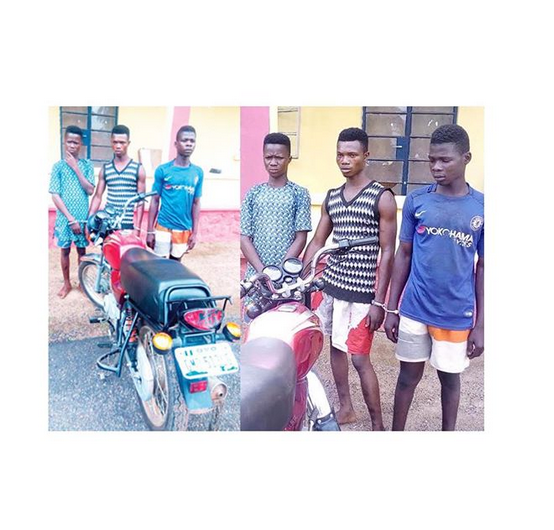 The days are evil and just very few people can be trusted. This is how a commercial motorcyclist, Oni Oluwajuwon, lost his life because of a bike worth less than N300, 000.
Tobi kodaolu who is 20 recounted his evil deeds of how he lured a commercial motorcyclist (bike man) into the bush and took his life in Ogun state.
Tobi who was the major suspect was arrested alongside his sibling, Kehinde Kodaolu, 16, and one other Hammed Babaola, 18, after they committed the crime last week Wednesday at Iyana Efon via Orile-Ilugun.
The suspect revealed he lured the motorcyclist to the bush, took his life and then made away with his bike.
The suspect had known Oluwajuwon in the neighborhood and he requested the victim render the service of driving him and the victim agreed.
Tobi said when they got into a thick bush, he asked the motorcyclist to stop and he began to machete him. "I used my cutlass to cut him many times. And when he was gasping for air and certainly dying, I took away his motorcycle.
Lagos Airport Shut Down By Aviation Union. Flights Grounded
After the evil deed, he came and met with his accomplice and they all left for Abeokuta. The suspect said he intended to use the motorcycle for commercial purposes in Abeokuta.
Though the accomplices said the suspected murderer admitted them into an oath of secrecy a week before the killing and robbery, Tobi maintained that his sibling and the other suspect were not involved in the killing.
The Ogun State Commissioner of Police, Ahmed Iliyasu, said the remains of Babalola were abandoned at the scene of the crime and that the suspects have been responsible for series of motorcycle snatching in the area.