2022 Toyota Tundra Is Here, Its All New And More Powerful (Photos)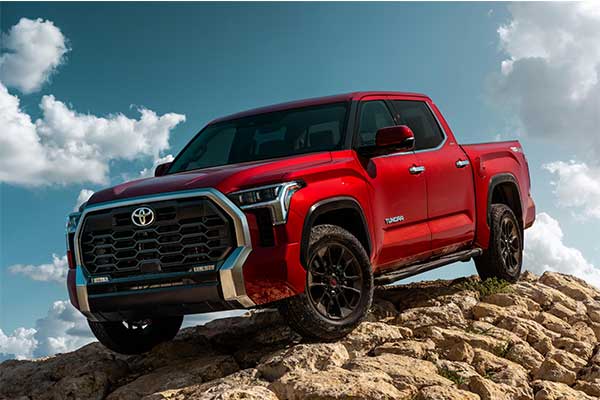 The current Toyota Tundra, if you must know, is an old vehicle, despite its cosmetic changes is actually 14 years old and was in dire need of a replacement as the competition has left it in the dust in terms of power and tech.
Now Toyota has responded with this 2022 model and after many tease and promotional clips, the real deal is here and ready to fight the competition. The new Tundra is not an evolution, but a revolution. There's no V8 option in this full sizer and it now rides on coil springs instead of leaf springs. This makes the Tundra has a towing capability of 12,000 pounds
While the look varies depending on trim, all Tundras have a menacing front fascia with an imposing grille. The latter is flanked by vertical air intakes and T-shaped headlights.
Moving further back, there's a sculpted hood and muscular fenders. The truck also has blacked-out A-pillars and a more dynamic greenhouse, which gives the Tundra a sportier and more modern appearance. Out back, there's an all-new sheet moulded bed that has aluminium cross members. It draws inspiration from the bed used in Tacoma, and its construction enables the bed to be lightweight and offer better protection against dents and corrosion.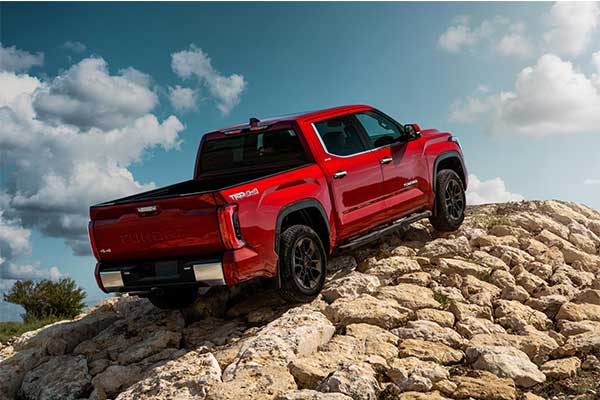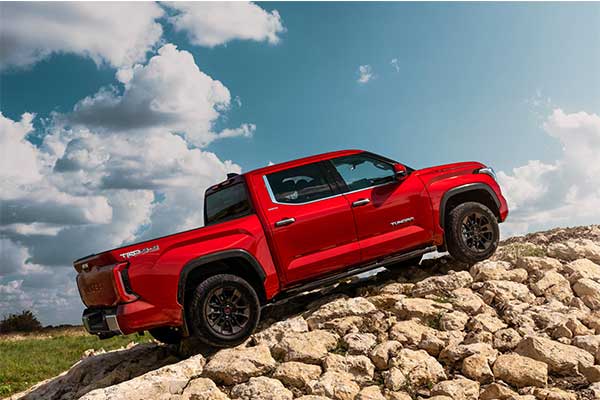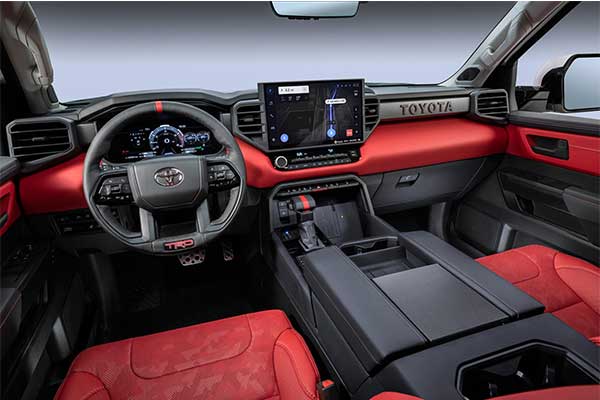 Inside, current Tundra customers are sure to appreciate the truck's impressive sightlines and decently low dashboard, though they may be shocked by the amount of technology on offer. The base infotainment system measures 8.0 inches (up from 7.0 inches on the old Tundra), but higher-end models will get a 14.0-inch touchscreen mounted high on the dash. What's more, it finally ditches Toyota's awful infotainment software in favour of a new tech suite that's far more intuitive and responsive. Apple CarPlay and Android Auto are standard on all models, and enhancements like integrated Amazon Music and Apple Podcasts will be available.
Styling-wise, the interior looks clean and attractive, with a thick piece of metal-toned trim running the width of the dash to visually support the HVAC vents and infotainment system. There's plenty of room in the front row for both stuffs and people, with a deep centre console providing space for a laptop, handbag, or other daily accoutrements.
Two powertrain options are on offer in the 2022 Tundra, both based on the same 3.5-litre twin-turbocharged V-6. Yes, the Tundra's much-loved 5.7-litre V-8 has finally been dropped. In the 2022 Tundra, the base option, branded i-Force, delivers 389 hp and 479 lb-ft of torque and actually beats the old V-8's numbers. Upgrade to i-Force Max and you get 437 hp and 583 lb-ft, as well as a hybrid system where an electric motor-generator between the engine and transmission can serve as an engine starter, recover energy under braking, and provide a power boost during off-the-line acceleration and towing. It can even power the truck on its own during short low-speed (up to 18 mph) drives. The standard transmission on the 2022 Tundra is a 10-speed automatic.