2023 Volkswagen Amarok Pickup Truck Breaks Cover And It Looks Sharp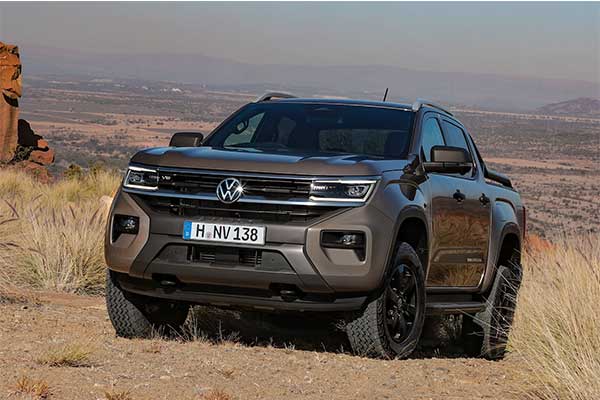 After 12 years and selling almost 1 million units globally, Volkswagen presents the 2nd generation Amarok pickup truck and looks sharp despite being based on the latest Ford Ranger.
The new pickup will launch with numerous trims: Amarok, Life, Style, PanAmericana, and Aventura. Style and higher trims will feature IQ.Light, VW's LED matrix headlights. Depending on which model you have, the front fascia will have either a 'horizontal' design or – in the case of the PanAmericana and Aventura – an X-shaped design. The new truck measures 210.6 inches in length, or 3.8 inches more than the outgoing Amarok, while the wheelbase has grown 6.8 inches to a total 128.7 inches. The fording depth is 31.5 inches, up from 19.7 inches previously. Body styles include two-door single cab and four-door crew cab options.
VW's 4-Motion all-paw hardware is standard in some markets, optional in others, and comes in either selectable or permanent all-wheel drive forms, and with six driving modes to help you navigate tricky terrain.
Along with the exterior being completely revamped, so has the cabin where the vertical infotainment takes centre stage. Running on a mildly modified version of Ford's SYNC 4, the touchscreen measures 10 or 12 inches depending on the trim level. It sits alongside a digital instrument cluster with an eight-inch diagonal on the cheaper models and 12 inches for the upper trims.
Five powertrains have been announced, all of them turbocharged. One is a gasoline unit and the rest diesels. The gasoline unit is Ford's 2.3-litre inline-4, rated here at 297 hp. The diesels are all from VW, with the range-topping option a new 3.0-litre V-6 delivering up to 247 hp.  A new 10-speed auto is offered, but a six-speed auto and manual five- and six-speed gearboxes will also be available.
Production is expected before the year runs out with the Amarok to be built in South Africa.