2024 Mitsubishi L200 Pickup Truck Breaks Cover, Looking Mean And Tough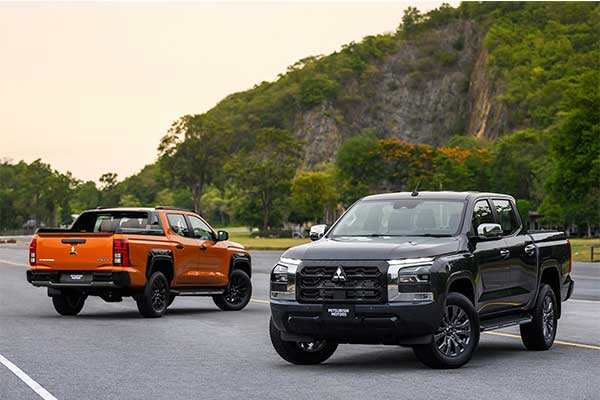 Mitsubishi has unveiled the all-new 2024 L200 pickup truck and it looks set to fight rivals from Toyota (Hilux), Ford (Ranger), and Nissan (Navara). The rugged bodywork has been slightly enlarged, with a greater emphasis on safety and comfort. Additionally, it features a newly developed ladder frame chassis and a powerful turbodiesel engine.
Depending on the configuration, the new L200 gets the Super Select 4WD-II and Easy Select 4WD systems, with the former featuring a center limited-slip differential that sends 40 percent of the power to the front and the remaining 60 percent to the rear. This more sophisticated four-wheel-drive system has the following selectable modes: 2H (RWD), 4H (4×4), 4HLc (4×4 with a locked center differential), and 4LLc (low-range with locked center differential). In addition, there are no fewer than seven driving modes: Normal, Eco, Gravel, Snow, Mud, Sand, and Rock.
Powering the latest Triton is a newly-developed 2.4-liter turbodiesel engine available in three states of tune. The high-output model wades into battle with 201 horsepower and 347 lb-ft of torque, down on power compared to the outgoing Ranger's gas-powered 2.3-liter engine. It makes up for this deficit with considerably more torque, though.
Customers can also choose between the standard specification, available with 181 hp/317 lb-ft, or a lesser-powered version with a paltry 150 hp /243 lb-ft. Depending on the chosen configuration, power is sent to the rear or all four wheels via a six-speed automatic or manual transmission.
The new L200 has been extensively overhauled inside, and Mitsubishi claims the cabin is "horizontally themed" with greater use of geometric shapes and metallic highlights. The steering wheel, gauges, and infotainment touchscreen appear to be very similar to what's currently offered in the Outlander. On the safety front, the new L200 comes with autonomous emergency braking, blind-spot monitoring, rear cross-traffic alert, lane-keeping assist, and adaptive cruise control.