21 Celebrities Who Own Private Jets
Let's face it, flying in your own private jet is the ultimate way of moving around.
It is also a good method of saving travel time.
Very few people can afford to buy their own private jet, which is why only a select few have their own.
So, we have listed a few famous people –  entertainers and athletes  – who flying first class on a commercial plane just won't do for them.
Some of them are listed below.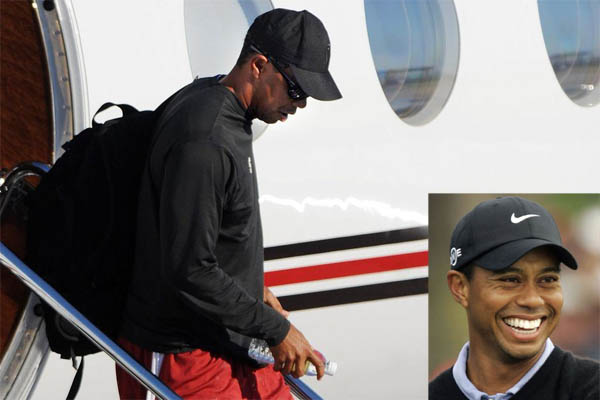 Tiger Woods
Eldrick "Tiger" Woods is one of the most successful golfers of all time. For several years, he was rated as the highest-paid athletes in the world.
Tiger Woods owns a Gulfstream G550, which sells for $53.5 million. The 18-seater can fly upward of 7,500 miles nonstop without refueling.
Tyler Perry
Tyler Perry is an American actor and filmmaker. Between May 2010 and 2011, he was rated by Forbes as the highest paid entertainer.
Perry owns a Gulfstream III aircraft. The aircraft is reportedly worth $125 million.
The aircraft has a customized theater on board with special lighting, electronically controlled cool mood window shades, a 42-inch HD LCD screen and multiple Blu-ray players.
Perry's plane also has a formal dining room, a modern kitchen and a private VIP bedroom.
Christiano Ronaldo
Christiano Ronaldo is a Portuguese professional footballer. He currently plays for Spanish football club, Real Madrid.
Forbes rated him, in 2017, as the highest earning footballer in the world.
Ronaldo's owns an 18-seater Gulfstream G650 valued at €19 million. He uses it to fly around the world on his marketing missions. When the plane is not in use by him, he rents it out at a cost of 6,000 euros an hour to recoup some of the cost.
The aircraft features separate bathrooms for the crew and passengers, wardrobes, internet access, telephone, fax, microwave, electric oven, fridge for drinks, and entertainment systems.
Jackie Chan
Jackie Chan is a Hong Kong martial artist, actor, film director, producer, stuntman, and singer. He has been acting since the 1960s, and has appeared in over 150 films.
Jackie Chan owns a Brazilian-made Embraer Legacy 650. He paid about $20 million for it. The aircraft  has gold and red dragons painted on its side, as well as Jackie Chan's personal logo.
Oprah Winfrey
Oprah Winfrey is an American media mogul. Her talk show "The Oprah Winfrey Show" is reputed as one of the most successful talk shows ever.
She is currently the richest African-American, and North America's first multi-billionaire black person. She is also regarded as the most influential woman in the world.
Winfrey has been known to own some private jets in the past and it includes a Bombardier Global Express XRS, estimated to be worth $42 million.
However, she later acquired a Gulfstream G650 private jet with registration N-540W. The jet was built in 2015 and delivered to Winfrey in 2016.
Floyd Mayweather
Floyd Joy Mayweather Jr. is a retired American professional boxer and boxing promoter. He went undefeated in his career and is ranked among the highest paid athletes in the world.
He has 3 private jets in his personal collection. The third one, a Gulfstream 111, was acquired as a birthday gift to himself in February 2018.
The 12-seater aircraft features golden cup holders, golden washbasin and gold accents and an all-white leather seats and a fully stocked kitchen.
Angelina Jolie
Angelina Jolie is an American actress, filmmaker, and humanitarian.
She is famous for her roles in movies like Tomb Raider (2001), Mr. & Mrs. Smith (2005), Wanted (2008), Salt (2010),  A Mighty Heart (2007), Changeling (2008), Maleficent (2014), In the Land of Blood and Honey (2011), Unbroken (2014) and First They Killed My Father (2017).
Jolie owns the efficient Cirrus SR22, which is worth a moderate price of $650,000. Her then fiancée and now ex-husband, Brad Pitt, bought it for her.
Harrison Ford
Harrison Ford is an American actor and film producer. He is famous for his starring roles as "Han Solo" in the Star Wars film series and as the title character of the Indiana Jones film series.
Harrison Ford is a lover of aircrafts. This love for aircrafts and flying aircrafts lured him into maintaining his own fleet of aircraft.
Some of the aircrafts in his personal fleet includes a Beechcraft B36TC Bonanza, Aviat A-1B Husky, 929-vintage Waco Taperwing, DHC-2 Beaver, Cessna 182, Cessna 208B Grand Caravan, and a Bell 407 helicopter.
Celine Dion
Céline Dion is a Canadian singer and businesswoman.
She achieved worldwide fame in the '90s after releasing several English albums along with additional French albums. Some of her very popular songs include "The Power of Love", "Think Twice", "Because You Loved Me", "It's All Coming Back to Me Now", "My Heart Will Go On", and "I'm Your Angel", etc.
Céline Dion owns a Bombardier BD 700 Global Express XRS. This plane is fitted with several bathrooms, a full kitchen, etc. It is reported to have a price tag of $42million.
This particular Bombardier can hold up to 18 passengers.
Jay Z
Shawn Carter known professionally as Jay-Z, is an American rapper and businessman.
He is a proud owner of a $40million Bombardier Challenger 850 Learjet.
The aircraft was a 2012 father's day gift to him by his superstar wife, Beyoncé.
The aircraft features a living room, a kitchen, a bedroom as well as two full bathrooms.
The luxury plane is also capable of accommodating 15-19 passengers.
Steven Spielberg
Steven Spielberg is an American filmmaker who is considered as one of the most successful filmmakers in history. He is famous for producing films like Jaws (1975), E.T. the Extra-Terrestrial (1982), Schindler's List (1993) and Saving Private Ryan (1998), and Jurassic Park (1993).
He is also one of the co-founders of DreamWorks Studios – an American film production company.
Steven Spielberg owns a US$ 70 million Gulfstream G650 private jet.
Morgan Freeman
Morgan Freeman is a veteran American actor, producer and narrator. He is known for his roles in movies such as Million Dollar Baby (2004), Street Smart (1987), Driving Miss Daisy (1989), The Shawshank Redemption (1994) and Invictus (2009).
Freeman enjoys flying. At age 65, he earned a private pilot's license. He owns or has owned at least three private aircraft, including a Cessna Citation 501 jet and a Cessna 414 twin-engine prop.
In 2007, he purchased an Emivest SJ30 long-range private jet and took delivery in December 2009.
Neymar
Neymar da Silva Santos Júnior or simply "Neymar" or "Neymar Jr.", is a Brazilian professional footballer. He currently plays as a forward for French club Paris Saint-Germain and the Brazil national team.
Neymar owns a Embraer Phenom 100 jet. This jet has a price of approximately US$ 4 million. He also owns another jet, a Cessna Citation 680. This jet was built in 2008 and has a price of around US$ 5 million. This jet is registered to Neymar Sports and Marketing.
Neymar also owns a helicopter  – a Eurocopter EC130B4. The helicopter was bought by Neymar in 2013.  The helicopter has Neymar's initials NJR on its tail. A Eurocopter EC130 has a price of US$ 4 million.
Tracy McGrady
Tracy Lamar McGrady is an American retired professional basketball player.
He was popular in the National Basketball Association (NBA), where he played as both a shooting guard and small forward.
McGrady owns a a Falcon 2000 jet. The aircraft is worth an estimated $27 Million.
Former NBA star Tracy McGrady saved his salaries so that he could purchase this private jet for his family. According to him, this was the best decision he ever made.
Jim Carrey 
Jim Carrey is a Canadian-American actor, comedian, impressionist, screenwriter, and producer.
He is famous for his roles in movies such as Pet Detective (1994), Dumb and Dumber (1994), The Mask (1994), Ace Ventura: When Nature Calls (1995), Liar Liar (1997), etc.
This talented actor once lived out of a Volkswagen van. Today, he cruises around the world in his private jet, a Gulfstream V, which is estimated to be worth $59 million.
John Travolta
John Joseph Travolta is an American actor, film producer, dancer, and singer.
He is best known for his roles in movies such Saturday Night Fever (1977), Grease (1978),  Look Who's Talking Too (1990), Look Who's Talking Now (1993),  Pulp Fiction (1994), Face/Off (1997), Swordfish (2001), Wild Hogs, and Hairspray (both 2007).
Travolta is known to own about 7 different aircrafts. Some of them include a 1964 midsize Boeing 707,  a Bombardier Challenger CL-601, Eclipse Aviation EA500, a Gulfstream II and a few smaller planes.
Tom Cruise
Tom Cruise is an American actor and producer. Since 1996, Cruise has been well known for his role as IMF agent Ethan Hunt in the Mission: Impossible film series, who's most recent film, Mission: Impossible – Rogue Nation, was released in 2015.
Cruise has being reported to own nothing less than 4 private jets. And they include a $20 million Gulfstream IV and a P-51 Mustang –  an American long-range single-seat fighter dating from World War II
Tom Cruise has held a pilot's license since 1994 and he often pilots all of the private jets that he owns.
Michael Schumacher
Michael Schumacher is a retired German racing driver. He is regarded as one of the greatest Formula One drivers ever.
The 7 time Formula One World Champion spent some of his career earnings on a Falcon 200 private jet. The Falcon 200 seats nine passengers and tops out around 460 knots while boasting luxury accommodations that include a full galley.
The jet was reported to have cost Schumacher approximately $22 million, which is somehow more expensive than the $7 million man-made island that was given to the driver as a retirement gift from the crown prince of Dubai.
Michael Jordan
Michael Jeffrey Jordan is an American retired professional basketball player, businessman, and owner of the Charlotte Hornets of the National Basketball Association (NBA).
Jordan is regarded as one of the greatest Basketballer ever. He played a key role in popularizing the NBA around the world in the 1980s and 1990s.
Jordan owns a Gulfstream IV. The jet has a Carolina Blue colour scheme that includes the iconic "Jumpman" logo on the tail. The jet's call sign, N236MJ, which is made up of Jordan's initials, his uniform number and the number of NBA titles he won as a player. The customized jet can reach a speed over 500 knots and is powered by dual Rolls-Royce engines.
Sergio Garcia
Sergio García Fernández is a Spanish professional golfer. He played on both the PGA Tour and the European Tour. As a professional golfer, he won 31 international tournaments, most notably
Sergio Garcia owns a Hawker 850 aircraft. He purchased it for $22 million. He uses it mostly to travel to and from his tournaments. The aircraft features a spacious cabin suitable for up to eight passengers and can cruise at a top speed of nearly 450 knots.
Magic Johnson
Earvin "Magic" Johnson Jr is an American retired professional basketball player. He played point guard for the Lakers for 13 seasons. He dominated the court as one of America's best basketball players for more than a decade, earning three NBA MVP. He is the current president of basketball operations of the basketball team, the LA Lakers.
Magic Johnson owns a Gulfstream III with the registration N32MJ. Thirty two was his jersey number throughout his career, and MJ stands for his initials – a common trend with celebrities who own jets.
The aircraft, which can seat 21 people, is registered to Magic Johnson Entertainment Inc.