Highlights Of The Just Concluded 2021 Lagos Motor Fair (Photos)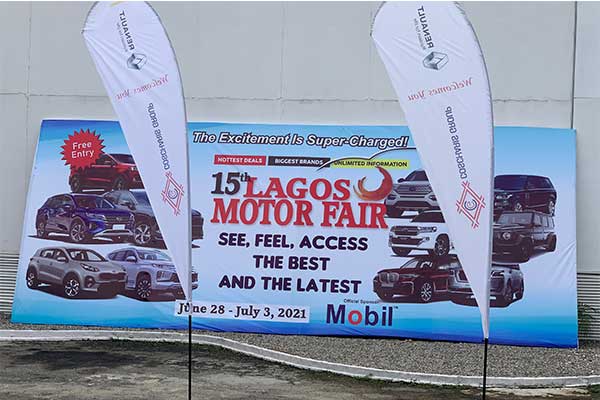 The 2021 Lagos Motor Fair has come and gone but there were many highlights of the event and we are going to focus on this today. Just a reminder, the event took place at the Federal Palace Hotel and Casino.
On the event proper which started on the 28th of last month till the 3rd of this month, things didn't actually kick-off until the 2nd day of the event which saw big dignitaries from the auto industry gracing the occasion. Although brands like Toyota, Honda, Nissan etc didn't show up due to logistic/other factors, others like Kia, Ford, Geely and Renault showcased their vehicles. Local brands too were present with the likes of OMAA and JET showcasing their lineup of commercial vehicles.
In this post, we will only be looking at the standout vehicles that were unveiled by the brands that made it to the event.
We start with Kia as the Korean brand showcased 2 latest vehicles in the 2021 Sorento (SUV) and K5 (sedan). The Sorento SUV has all the latest tech and features in an affordable package in comparison to SUVs of similar size or smaller. It's available in a 2.5-inline-4 engine and a 3.5 V6 which are mated with a 6-speed automatic transmission.
The K5 is the next model Kia displayed and it's a beauty to behold as it looks like a sports sedan inside and out. As usual, it features all the latest tech, lots of room inside and to top it, quite affordable than its rivals. A powerplant of a 2.0-inline 4 is the engine showcased and it comes with a 6-speed automatic transmission as standard.
Geely on the other hand showcased the Coolray SUV and the Emgrand sedan with the Coolray stealing the show from the Geely brand.
Our local manufacturers were not left out as OMAA showcased their gas-powered passenger buses U series, H series and T series) that are all petrol and gas-powered. JET showcased their electric vehicle, the Mover EV and its petrol-powered counterpart.
Renault showed their locally assembles cars by Coscharis Motors with the Ford brand launching a new set of heavy-duty trucks for commercial purposes along with their passenger cars.
NADDC (National Automotive Design and Development Council ) boss Jelani Aliyu flew in from Abuja and he officially declared the event open after giving a speech. He also officially launched the Ford heavy-duty trucks and the 2021 Explorer SUV.