7 Tips You Should Not Ignore If You Patronize A Nigerian Roadside Mechanic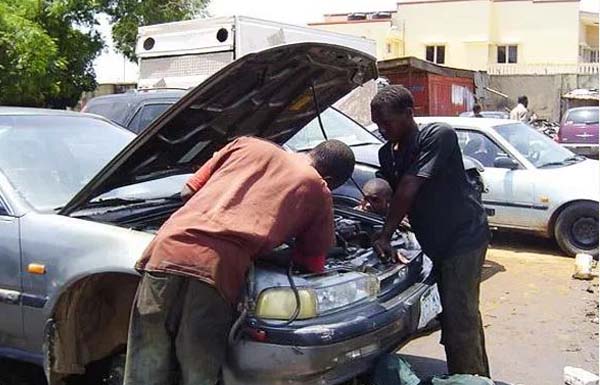 Nigerian roadside mechanics are real live savers ,because they are considerably cheap .
They help us cushion the effects of the absence of a good number of qualified and well trained automobile engineers.
But this people can wreck havoc when you least expect it .
Here are some tips you should take serious .
1.Don't Take A Car With A Full Tank To Them
You would end up hearing stories that touch the heart about what happened to your fuel.Just don't take a full tank to them,leave as little fuel as possible when you take your car to them.
2.Never Leave Them Alone With You Car
Cars are built in a way that every tiny screw ,bolt or nut has a function.But Kabiru does not think so,He feels some things are useless."Oga you no need this one".
Monitor them and make sure they don't just remove things anyhow.
3.Find Out Price Of Parts Before Going To Them
After telling you your bill for the proposed fix,they would do everything to still get "something" from every part they tell you they want to buy.
So its safe to find out the price of the parts yourself before giving them money to buy anything to prevent getting overcharged.
Also Read : 4 Tricks And Techniques Nigerian Mechanics Use To Extort You
4.Check The Parts They Buy For You
Apart from overcharging you for parts ,they often "play smart" by removing parts from other vehicles around and lie that they bought it.
Its best you just follow them to the parts shop.
5.You Might Not Need A Fix
Its one thing to lie about the price of parts ,its another thing to tell you a part needs replacement when there is actually nothing wrong with it,they would just tell you they bought something when in fact nothing was changed in your car.
Have some understanding how your car works ,read a lot about cars !
6.Check After A Repair
Always check after a repair ,tighten bolts and nuts and screws yourself ,especially your tires .
7.Pay Them Well
If there is one thing you should always do its paying them well and being considerate .
The last thing you want is Mufu fixing your car half-mindedly.
Have anything to add ?
Your input is needed .
Kindly share ,subscribe and download our mobile apps.