Angry Lady Stands On Top A Tesla Model 3 Complaining About Faulty Brakes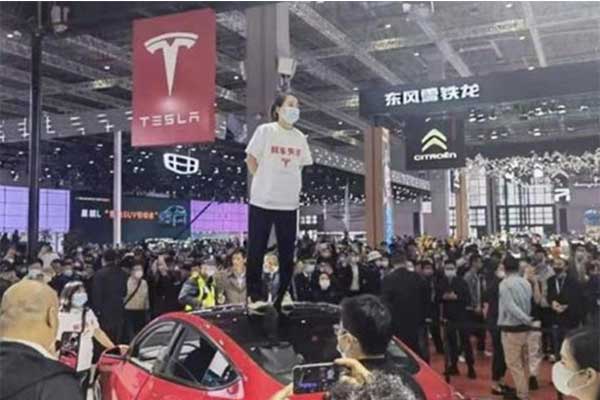 Despites recording good sales, Tesla is in hot water once again in China as an angry lady vented her frustration by standing on her Model 3 complaining about its dangerous brakes. The incident occurred during the ongoing Shanghai Auto Show as she hurled her accusations against the company. Several videos were captured of the woman, who was surrounded by a crowd at the time. She was wearing a T-shirt with writing on it that translated to "Tesla brake lost control". She yelled the same thing during her protest. The woman said that the car nearly killed her family members.
The unwanted publicity comes at an uncomfortable time for Tesla, which since it broke ground on its Gigafactory in Shanghai in early 2019 has enjoyed a dream run in China, receiving all-important support from the government and appearing to skirt the tensions between Washington and Beijing. Tesla has been called out by Chinese regulators over quality and safety issues before.
Tesla said that the woman is always known for complaining about the car's brakes. The company added that it will work on solutions but "never compromise against unreasonable demands. According to authorities, the angry lady will be detained for 5 days.
Despite all these, Tesla still remains a popular brand in China. The company recorded tremendous sales during the covid 19 periods when other brands were shut. Tesla Model 3 is notorious for having issues among other Tesla cars, from the roof falling off at high speeds, software issues and the steering wheel coming off.