Moment Astronauts Aboard Elon Musk's Spacecraft Entered ₦58 Trillion International Space Station, ISS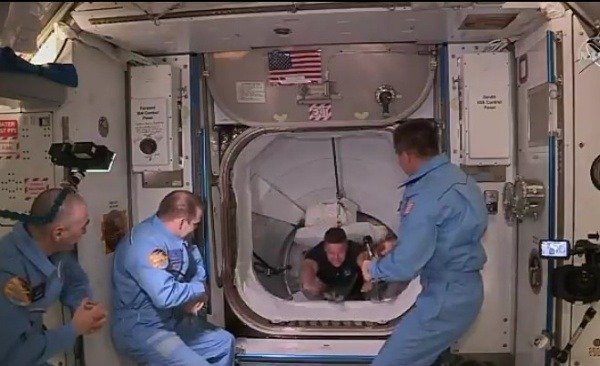 This is the moment NASA astronauts aboard Elon Musk SpaceX's spacecraft entered the ₦58 Trillion International Space Station ISS after 19 hours journey from Earth.
Astronauts aboard SpaceX Crew Dragon spacecraft has successfully docked with the orbiting International Space Station (ISS) after around 19-hours of travel from Kennedy Space Center in USA.
The Crew Dragon, the first vessel to carry humans into space from U.S shores since 2011, docked with the station at 10:16 a.m. on Sunday.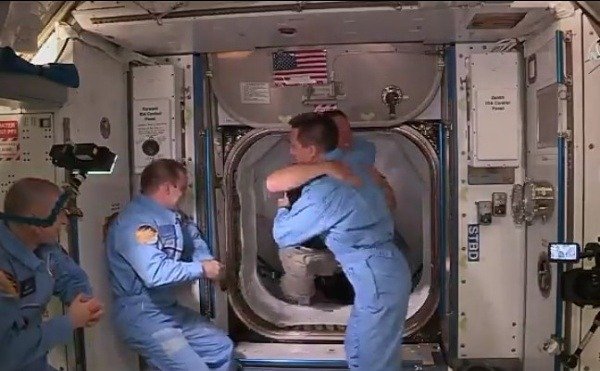 The crews, NASA astronauts Bob Behnken and Doug Hurley, then floated from their SpaceX Dragon into the station, were they were greeted by fellow NASA astronaut Chris Cassidy, and two Russian cosmonauts.
The new crews will remain onboard the International Space Station for between one and four months.
The Dragon, made by Tesla Chief Elon Musk's company, SpaceX, is the first capsule made by a private company to be launched into space.
The International Space Station (ISS), were the SpaceX Dragon docked into, is a multi-national collaborative project between NASA (United States); Roscosmos (Russia); JAXA (Japan); ESA (Europe); and CSA (Canada).
The ISS has been described as the most expensive single item ever constructed. As of 2010 the total cost was US$150 billion, or about ₦58 Trillion.