Audi Showcases A Shapeshifting Concept EV Roadster Called Skysphere (Photos)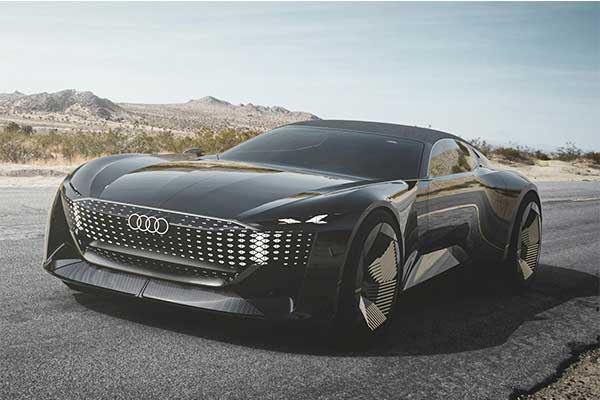 Audi has introduced the first of three futuristic concept cars it created to showcase the technology and design cues it will incorporate into its range in the coming years. Called SkySphere, the first concept is a luxurious electric roadster with a wheelbase that can be modified by the driver and a handful of clever heritage-laced styling cues.
The Skysphere was created in Audi's Design Studio in Malibu, by Gael Buzyn and his team. Its dimensions, character, and rear-hinged doors are inspired by the Horch 853 roadster from the '30s while the overall design is futuristic, introducing elements that will be integrated into future production vehicles.
Let's get deeper into what this vehicle can really do. The Audi Skysphere will have two modes, a Grand Touring autonomous mode and Sports, human-driven mode. When it goes into human-driven mode, the hood, fenders, and front wheels contract by 9.8 inches to effectively shorten the wheelbase of the Skysphere from that of the Audi A8 to that of the smaller RS5 Coupe. It also lowers by half an inch and the driving controls like the steering wheel and pedals deploy.
Power is provided by a single rear-axle-mounted electric motor that makes 623 hp and 553 lb-ft of torque. It's fed by an 80-kWh battery that Audi says would provide about 311 miles of range according to the European WLTP cycle. The battery is actually made up of two modules, the larger one below the floor ahead of the rear axle and the smaller ones in the central tunnel. Audi quotes a 0-62 mph time around four seconds for the 3,968-lb car and says the power would be easy to harness because 60% of the weight is on the rear.