Built 2 Houses, Sent Children To Universities, Corporate Dressed Ado Ekiti-based Vulcanizer Shares His Achievements (PHOTOS/VIDEO)
I have built 2 houses and sent children to universities, an always corporate dressed Ado Ekiti-based vulcanizer shares his achievements.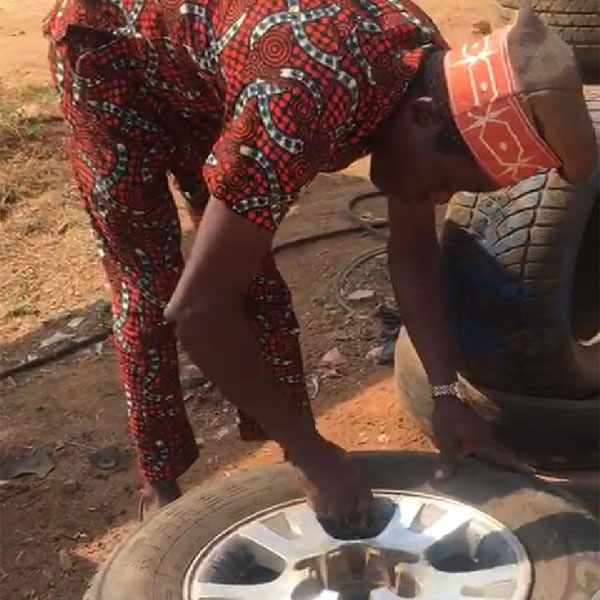 An outstanding and corporate dressed vulcanizer has been spotted in Ado Ekiti, Ekiti State Capital. Oluwadare Kehinde is his name. He said he has been able to build 2 houses and sent children to universities from the income generated from his vulcanizing job.
Kehinde is known for his 24/7 well dressed lifestyle even though he is a vulcanizer. In this part and other parts of the country, this craft is easily associated with dirtiness. However, Kehinde has proven that the craft should be one to be proud of. He has made dignity and honor his watchword in his act of vulcanizing. He normally puts on suit on Mondays with well polished black shoes.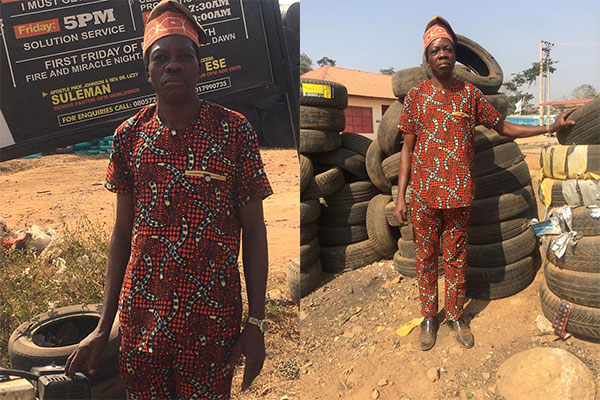 Video
Oluwadare made this know in a interview with our correspondent in Ado Ekiti. In an interview session, he noted that he has been in the craft for more than 20 years.
"I have been in this craft for 20 years and more. He said.  When asked why he chose the job, being a job that lacks honour especially in a country like Nigeria, he said it was God-given.
"This job is a God-given job. It is a job that does earn me and my family our daily bread satisfactorily.
Speaking further on the tremendous achievement recorded in the job, the Ado based Vulcanizer said he has been able to build two houses.
"By the special grace of God, I have been to build two big houses. I have able to send my children to good schools in the country.
Confident about his expertise in the job, he said if the opportunity is given to move to America to do this same job, he affirmed he won't do less.
The vulcanizer also talked about his previous business, noting that he started with selling of tyres. However, in the long run, he settled for fixing of tyres for vehicle users.