Checkout The New Look Of Molue (PHOTOS)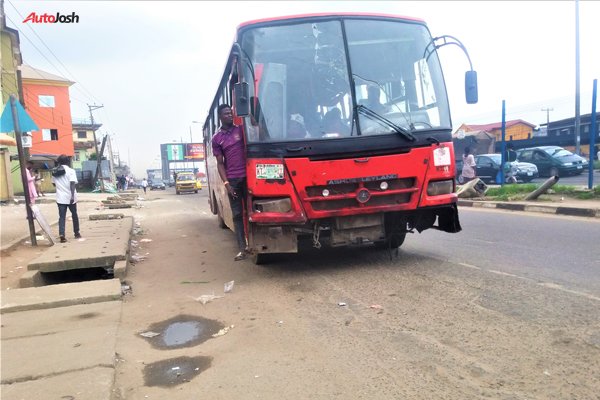 While we are still celebrating how Molues are being phased out – behold, Molues reinvent itself in the form of  these "BRT" buses.
Well, in actual sense, they are not BRT buses. They were, at a time. But that was before the Lagos state government outlawed their operations on the BRT corridors. This set of buses were part of the LAGBUS-NURTW franchise.
Most of these buses tell a sad tale of neglect. Their conditions show an evident lack of maintenance services. They represent a total contrast from their once luxurious state.
Today, just like Molues, these buses – during trips – are typically overcrowded with passengers.  They breakdown during trips. Many of them have no brake or rear lights. They have chassis that are badly in need of bodywork and spray job – even wash job.
The interior are also no better. For instance, the internal walls are grimy and coated in dark colours that are in fact accumulated dirt that has caked over time. It is very doubtful if these buses are ever washed.
The interior also feature tattered upholsteries, dirty handgrips, littered floors, etc.
Their bus conductors – usually 2 or 3 in number – are very discourteous and combative. They typically seen hanging by the door side screaming out for passengers.
Today, the only advantage that these set of commercial buses have over Molues is the absence of itinerant preachers, hawkers, mobile pharmacists, etc.