See The Current State Of Construction Work At The Oshodi-Airport Road (PHOTOS)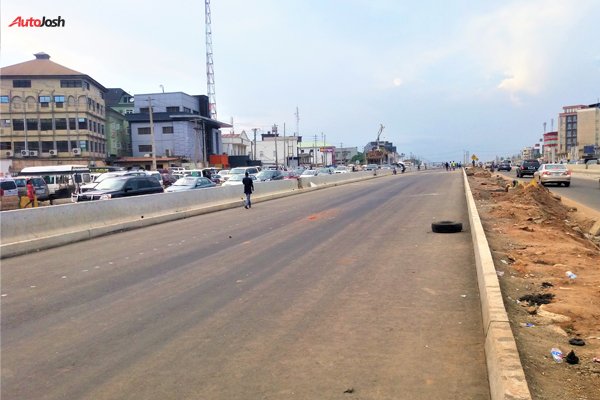 The photos below show the current level of reconstruction and expansion work at the Oshodi-Airport Road, Lagos.
Though a Federal road, the project is being handled by the Lagos State government.
The Oshodi-Airport road is a gateway into the country. It connects Murtala Muhammed International Airport (MMIA), Lagos to the Oshodi axis of the state.
The road offers first time visitors to Nigeria their earliest impression of the country.
Tragically, for decades, that stretch of road remained a national disgrace.
From one administration to the other, the road was left in an atrocious condition – one that begged for urgent attention in order to salvage the nation's image.
However, in May 2017, and with facilitation by Vice President Yemi Osibanjo, the federal government finally gave the approval for the Lagos State government to commence a total reconstruction of the road.
In the spirit of the regeneration and urbanization of Lagos state by the Ambode-led administration, work begun on the project in September 2017.
The project is intended to transform the road from 4 lanes to 10 lanes from Oshodi to the International Airport.
The road will also feature an interchange and flyover that would drop commuters to the Local Airport.
Hitech Construction Company Limited is the company handling the project.