Checkout The Shambolic State Of Roads In Festac Town (PHOTOS)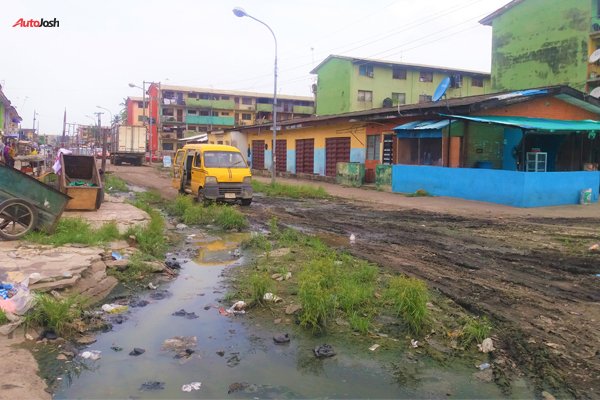 Festac Town is one of the oldest planned communities in Nigeria.
This expansive residential estate was built to host participants at FESTAC 77 –  an African Festival of Arts and Culture that held in 1977.
At the time it was built and commissioned, Festac town was a model residential estate. It was the first of its kind on the shores of Africa. Festac town, then, boasted of world-class social and public infrastructure.
But most importantly, Festac town featured access to public transportation and an excellent road network.
Indeed, Festac town was a choice residential location in Nigeria then.
Sadly, today, most of the one-time excellent infrastructure  in Festac town have collapsed or enormously deteriorated. For instance, the expansive road networks in Festac are in very atrocious conditions.
Note, Festac town is managed by the Federal Housing Authority (FHA). However, the Federal, State and Local Government all lay claim to the management of the estate.
These different tiers of government occasionally issue the residents with various charges ranging from valuation fees, local government levies to tenement rates.
The battle for the control of Festac Town has lingered on between the Federal government and the Lagos State and to the detriment of the residents of the Estate.
Today, Festac suffers from a terrific neglect by the governments. There are no functional infrastructure. Public infrastructure that still exist are in atrocious conditions. Notable of these infrastructure are the network of roads.
Indeed, driving on the roads in Festac are a very bumpy and unpleasant expedition – no thanks to the various roads there that are replete with crater-size potholes, eroded road surfaces and collapsed portions of some roads.
Indeed, Festac town is a classic example of a place with absolute no presence of government.
Festac town is located in Amuwo Odofin Local Government Area of Lagos state.
Interestingly, the headquarters of the Amuwo Odofin Local Government is situated in Festac.
The Chairman of Amuwo Odofin Local Government is Executive Chairman, Engineer Valentine Oluwaseyi Buraimoh.
The Governor of Lagos state is Akinwunmi Ambode.
The Federal Housing Authority (FHA) reports to the Federal Government of Nigeria currently headed by President Mohammadu Buhari.