End Of An Era For 3 Lotus Sportscars As Emira Replaces All Of Them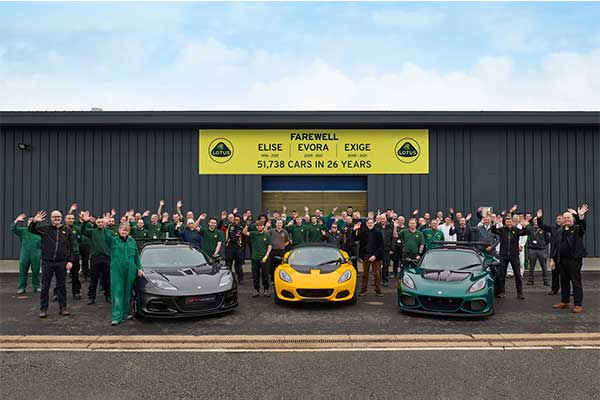 Lotus has ended production for all three of its stalwart models, with the final Elise, Exige and Evora models rolling off the production line ahead of the launch of the new Emira-led era.
The models have defined the company for decades as Elise was originally launched in 1996. It was followed by the Exige four years later, while the Evora is a relative newcomer dating back to 2009. The 35,124th and final Elise was a yellow Sport 240 Final Edition, while the 10,497th and final Exige was a heritage racing green Cup 430 Final Edition. Likewise, Evora production ended at 6,117 units with the final one being a dark metallic grey GT430 Sport. They'll remain with the automaker and become part of their growing heritage collection.
Lotus boss Matt Windle paid tribute to the team who have worked on the three cars, nothing that they would transfer their expertise to producing the Emira and Evija. He added: "I would also like to convey enormous gratitude to all the customers of the Elise, Exige and Evora over the last 26 years for their passion, enthusiasm and support," said Matt Windle, Lotus managing director.
The three will be replaced by the new Emira set to enter production next spring at the same plant where the all-electric, limited-run Evija hypercar is also assembled. Lotus will expand its portfolio next spring with the unveiling of an electric SUV due to be assembled at a new factory in Wuhan, China.
Read More:

Latest Lotus Emira Sports Car Comes With Toyota And AMG Power (Photos)