Enraged Tesla Owner Blows Up His Model S With Dynamite
A Tesla driver blew up his car in Finland by hanging a total of 30 kilograms of dynamite rods on the car. According to the man, he acted because he was disturbed by the high costs of repairing an electric car.
Tuomas Katainen, the owner of the Model S in question, bought a used Tesla a few months ago, but the battery was damaged after 1,500 km.
According to Katainen, the workshop was unable to repair the damage, forcing him to order a new battery for 20 thousand euros.
He thought this amount was so absurd that he decided to take a completely different approach. He contacted some of his favorite YouTubers to make a "smashing" point.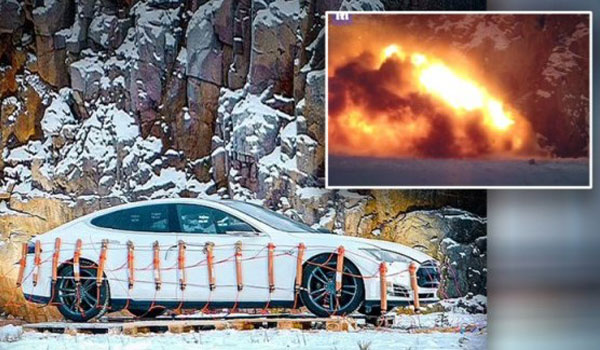 According to the video, the car was built in 2013. He did not mention the total number of kilometers the car drove. Tesla usually offers an eight-year or 150,000-mile/240,000-kilometer warranty on the battery and drive unit, so Katainen's claim that the battery was out of warranty may be true, German news magazine say'. The standard warranty can also be voided if the battery has been opened or serviced by any unauthorized person from Tesla.
The enraged Finn blew up his car by attaching the model to dynamite bars. © Thomas Katainen
Whether his argument was correct or not, the result was the same: After removing the battery, motors, and other expensive components, his specially assembled team towed the structure to an old quarry near Gala, a remote village about a two-hour drive from Helsinki. There, a demolition expert equipped the car with 30 kilograms of explosives. Then another Elon Musk doll was put behind the wheel and … BAM.
The action video is now viral and has garnered over four million views.