Finally: Toyota Teased Next Generation Full-Sized Sequoia SUV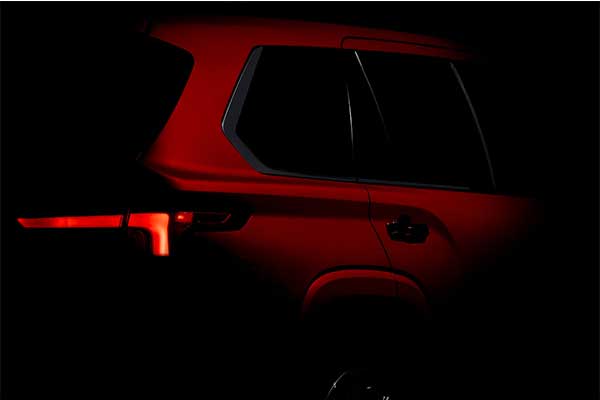 The Toyota Sequoia is a really old vehicle that is begging for a replacement and Toyota seems to understand this and therefore has teased what the next large SUV will be. Judging by the teaser, the new Sequoia will receive the angular styling treatment given to the latest Tundra. We expect Toyota to offer seven- and eight-seat configurations with various trim levels, including an off-road-focused TRD Pro variant.
The teaser only shows the rear quarter of the upcoming SUV, including the sculpted rear fender, a chrome-finished window line, an integrated roof spoiler, and horizontally mounted LED taillights reminiscent of the Mitsubishi Outlander. The surfacing and the fender add-ons look similar to the new Tundra pickup truck that debuted last September, although the wheelbase appears to be shorter judging from the position of the rear door shut lines, but that could just be the angle of the photo.
As usual, the Sequoia will continue to be based on the Tundra, especially as production is moving to the Tundra's San Antonio plant. That means it will still be body-on-frame construction, and under the hood will likely be the twin-turbo V6s from the truck, including the hybrid. Unlike the truck, the Sequoia will probably continue to use independent rear suspension, especially since its closest competitors, the Ford Expedition, Chevy Tahoe and Jeep Wagoneer, have all gone to independent rear suspension. Toyota didn't give a reveal date, but we should see the Sequoia shown sometime this year.