Ford F-150 Lightning Adds 10 Miles Of Range At A Hefty Price Increase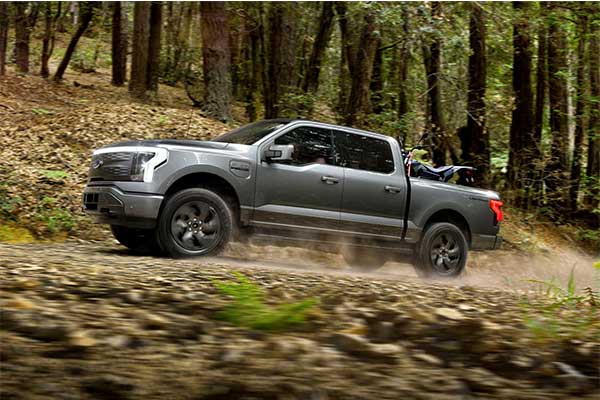 The 2023 Ford F-150 Lightning gets a range boost for a second model year, but also a big price increase. Ford revealed Tuesday that it's raising the base price by $7,000. The EPA-estimated range for the fleet-oriented F-150 Lightning Pro increases from 230 miles to 240 miles with the standard 98-kWh battery pack, while the price increases from $39,974 to $46,974, excluding destination charges that haven't been announced yet (expect a $100 increase to $1,795). This new battery option is available on the base Pro, XLT and Lariat trims.
Also available now for the 2023 model year is the Pro Trailer Hitch Assist. This feature lets the truck automatically manoeuvre itself into position for hooking up a trailer. It's available on all trims. On Pro, XLT and some Lariat trims, it's part of the optional Tow Technology Package. On some other Lariat trims and the Platinum trim, it's a standard feature. Furthermore, two new colours are available, Avalanche Gray and Azure Gray, which replace three existing colours. A police package called the Special Service Vehicle package is also now available, but just on the base Pro model.
The drastic price increases  are sure to disappoint, but Ford noted they're "adjusting the MSRP on the F-150 Lightning for the first time since it was revealed in May 2021 and has honoured MSRP for all customer orders to date." Current order holders awaiting delivery are not impacted by the price increases and the company said, "Lightning reservation holders who previously received an invitation to order, but who elected to extend their reservation because their vehicle specification was unavailable, will receive a private offer for use in upcoming waves."