Ford To Start Using Tesla's Supercharger Network Stations As From 2024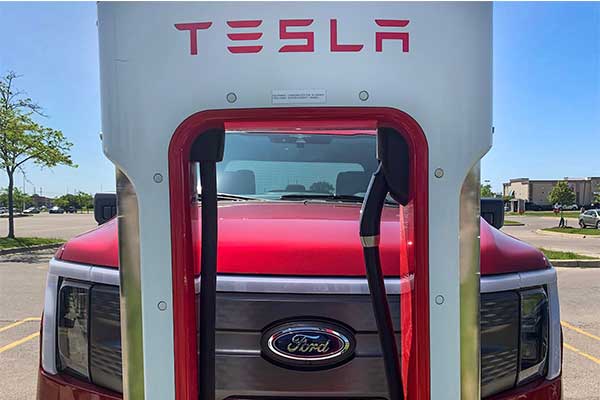 Ford CEO Jim Farley and Tesla CEO Elon Musk announced Thursday that Tesla's network of 12,000 "Supercharger" stations will open to Ford EV owners next spring. The two execs partnered up to discuss the project via a Twitter Spaces chat Thursday evening.
From spring 2024, Ford's Mustang Mach-E, F-150 Lightning, and E-Transit models – which have helped the Blue Oval rise to America's number 2 EV brand behind Tesla – will be equipped with a Tesla Supercharger-compatible adapter and software integration to allow these EVs to plug into Tesla's V3 Superchargers with the North American Charging Standard (NACS) connector.
The automakers claim that this new collaborative effort is in an attempt to further drive electric vehicle adoption across the US, and it will conceivably open the doors for Ford owners to over 12,000 Supercharger stations in addition to the 10,000 Blue Oval chargers that Ford already has.
Ford has been quiet on plans for its next-generation EV lineup, which will be based on a new modular EV platform aptly named the Ford Generation 2 EV platform. At least one will be a pickup truck and another will be a large three-row SUV.
It remains unclear whether the existing networks will even be around in 2030. Smaller networks will likely be rolled up into bigger ones, but other players are equally likely to provide EV charging over the long haul: electric utilities (which buy or produce the power regardless), convenience-store operators, fossil-fuel companies, and perhaps even carmakers themselves.