Moment Fuel Tanker Caught Fire On East-West Road, River State (Photos, Video)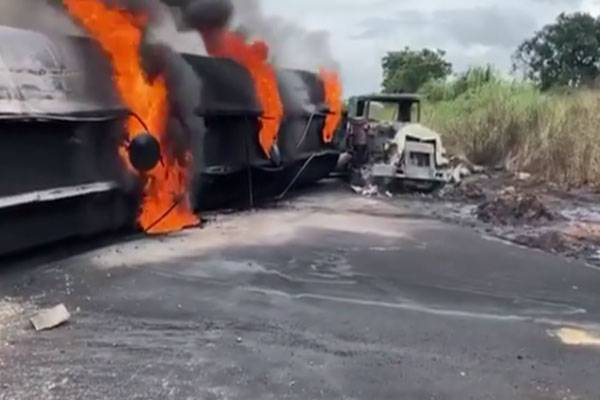 Fire gutted a tanker on East-West Road in River State. The fallen tanker was spotted at Tai LGA Junction Saakpenwa, wallowing in an almost untamed fire. An eyewitness videoed the tanker loaded with 46,000 litres of petroleum product as it burnt unquenchably.
Till the time of filing this report, no life was lost and no injury has been reported. In the meantime, the head of the truck was badly burnt by the fire.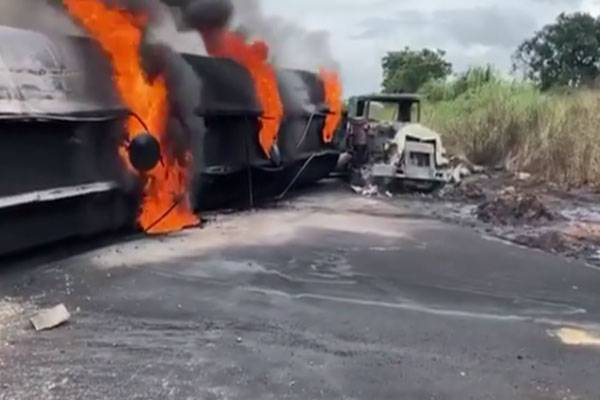 This is not the first time this year that a tanker has crashed and caught fire. In March, an oil tanker skidded off a road and then burst into flames in Port Harcourt, killing six people. A crashed fuel tanker also blew up earlier, killing nearly 100 people. The victims literally died as they were scooping the fuel that was spilling out of the vehicle before it exploded.
Video As Fuel Tanker Caught Fire On East-West Road, River State
It should be recalled that more than 10 people died in Delta state in June this year in the course of scooping petroleum product. They died trying to scoop up fuel spilling out of the crashed vehicle before it exploded.  Hundreds of impoverished bypassers had rushed towards the tanker to scoop up fuel using pans. When the tanker burst into flames.
Unlike the previous tanker explosion that passers-by moved closer to scoop up leaking oil, this tanker was deserted by people.