2,400HP Volvo Iron Knight Breaks Record As The World's Fastest Truck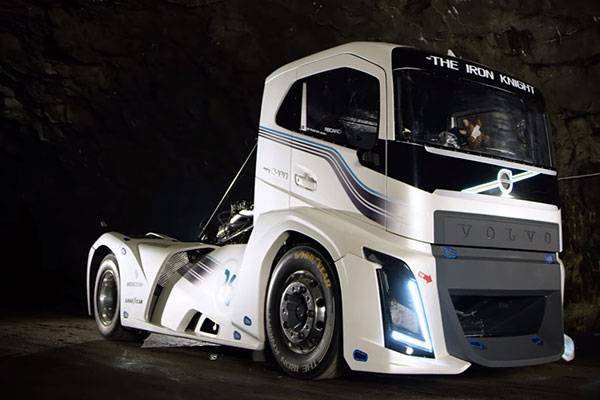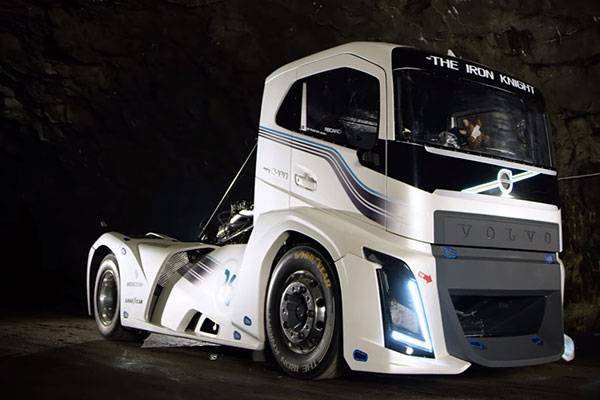 The Iron Knight is now the world's fastest truck. Sweden based Volvo Trucks Corporation built the truck which holds the official speed records for 500 and 1000-meter distances.
Volvo continues setting and breaking the traditional record of building the fastest and powerful truck.
The truck has displayed its speedy nature on a closed-off airfield in Fallfors, Sweden in a video released by Volvo. Iron Knight can run 100km/hour in just 4.6 seconds.
During the display, the truck covered a distance of 1.0km in 21.290 seconds at an average speed of 169.093km/h
The speed records were set up to demonstrate the performance of the I-shift Dual Clutch gearbox.
Video Of The Volvo Iron Knight
Despite its large size, the Volvo Iron Knight can reach a speed of 60 mph (97 km/h) in just 4.6 seconds. This vehicle features a 2400 hp (1790 kW) mid-mounted engine and a dual-clutch transmission that uses two separate gear trains, one for odd-numbered gears, and the other for even.
The Iron Knight broke its own two-year record as the world's fastest truck.
With 2400 hp (1790 kW), the Iron Knight is the most powerful vehicle in the Forza series. The second most powerful is the Plymouth GTX Fast & Furious Edition with 2000 hp (1491 kW).
In the meantime, Volvo manufactures and assembles its trucks in eight plants and nine factories owned by local interests. Volvo Trucks produces and sells over 190,000 units annually.
Volvo has assembly plants in Sweden (Gothenburg – also the Head Office), Belgium, USA, Brazil, South Africa, Australia, China, India and Russia. Some of the smaller factories are jointly owned.
Its main parts distribution centre is located in Ghent, Belgium. The sales side, with their corresponding offices and dealers, is split into seven sales areas Latin America. They also located in North America, Europe North, Europe South, Africa/Middle East, and Asia/Oceania.
What do you think about the Volvo Iron Knight Truck?