Ghanaian Student Develops Floating Bicycle For People Living In Riverine Areas (PHOTOS)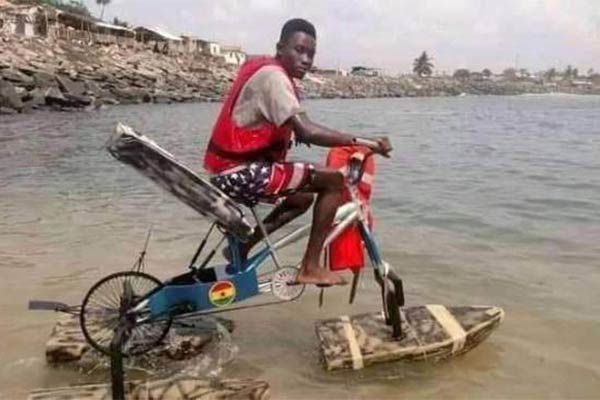 Ghanaian man, Frank Darko, developes a floating bicycle to help people living in riverine areas cross the river with ease.
He hopes to take his prototype floating vehicles to production.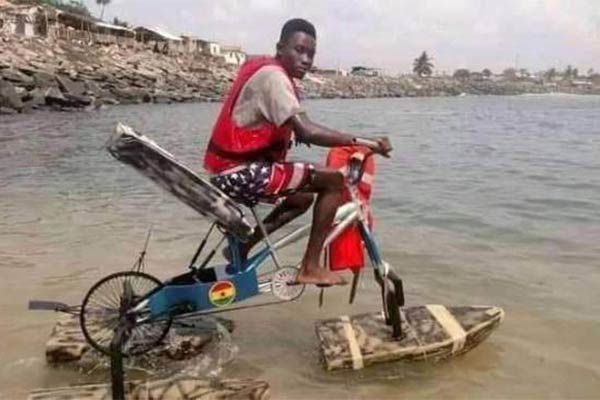 A young Ghanaian man, Frank Darko, has proved that necessity is truly the mother of invention after developing a floating bicycle to help people living in riverine areas. According to him, he hopes to take his prototypes to production to aid the people's easy mobility on water.
Meanwhile, his display of talents have showcased to the world that despite Africa limitations, its citizens can always do the unexpected.
In photos making the rounds online, Darko can be seen test-running his water-bike prototypes to make sure the floating vehicles can actually move on water.
The lad, a graphic design student at Tarkoradi Technical University in Ghana, said he built the floating bicycle to help Ghanaians living in villages and the Volta region.
Meanwhile, mass production can follow suite for families living in riverine areas.
The talented Ghanaian received commendations from people who were impressed by his floating bicycle.
Read some comments below..
@Phil_monametsi; Very smart and brilliant
@bettachris_; Congratulations Brother. Keep making us proud.
@LEgbede; Impressive @AlikoDangote please help support this dude..
@MalomeTeboho; This is such a wonderful idea, not many people would've thought of a floating bicycle. Nice!
@Echi_di_ime; God gave us great minds, innovators and brilliance but foolish leaders.