Gowon Takes A Ride in A Bristol Helicopter Seized From Biafran Forces, Awolowo Watches (Throwback VIDEO)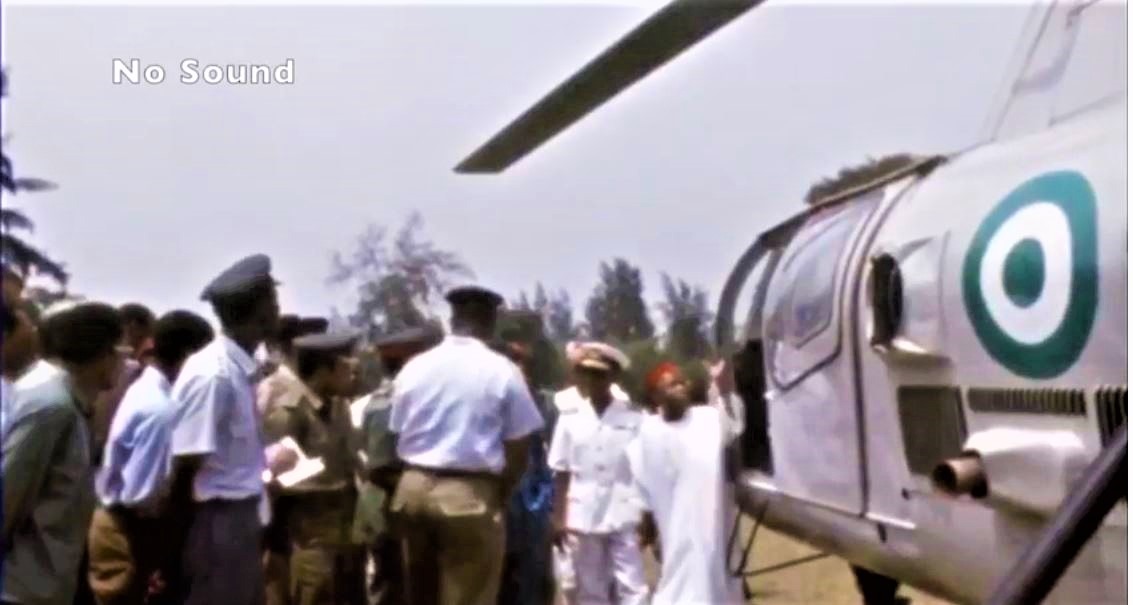 Gowon Takes A Ride in A Bristol Helicopter Seized From Biafran Forces, Awolowo Watches (VIDEO)
On Wednesday, February 14 1968, during the Nigerian Civil war, the leader of the Federal Military Government of Nigeria, Major-General Yakubu Gowon, inspected a helicopter seized from the Biafran Forces.
The helicopter, a 5-seater Bristol Westland aircraft, landed at the then seat of power – Dodan Barracks in Lagos.
In attendance to inspect the aircraft were the Commissioner for Finance, Chief Obafemi Awolowo; the Chief of Naval Staff, Rear Admiral Joseph Wey; the Commissioner for Communication, Alhaji Aminu Kano; Chief of Air Staff, Lt. Colonel Shittu Alao, and other senior military officers.
The Nigerian Civil War was a civil war in Nigeria fought between the government of Nigeria and the secessionist state of Biafra. The war lasted from 6 July 1967 to 15 January 1970.
Below is the video of when Maj. Gen. Gowon inspected and took a ride in the helicopter, as Chief Obafemi Awolowo and others watched.
The NAF510 Bristol Westland Helicopter
The Bristol Westland helicopter was confiscated by the Biafran forces from Bristow. The aircraft was meant to be used for their air force.
Bristows personnel, who refused to operate their helicopters for the Biafrans, had insisted on being evacuated to Nigeria.
It is unclear when the NAF510 Bristol Westland Helicopter was recaptured from the Biafrans. However, the date is believed to be either late January or early February 1968. It was captured at Udi, where the Biafran forces had a helicopter base.
The aircraft was captured when Nigerian troops of the 1st Division overran the place and the fleeing Biafrans left it behind. It was captured intact.
The helicopter was later flown over to the Nigerian side by a South African mercenary named Ares Klootwyk. He flew it from Udi to Enugu on 2nd February and then from Enugu to Makurdi, via Oturkpo on the following day.
Four days later, on 7th February 1968, Klootwyk flew it from Makurdi to Benin and on to Lagos Airport in Ikeja.
The Federal side gave it paint over and brought it into the service of its air force as NAF510.
Also See: Buy and sell cars faster on Carmart NG