How Much Did It Cost Ambode To Build These Flyover-Bridges? (See PHOTOS)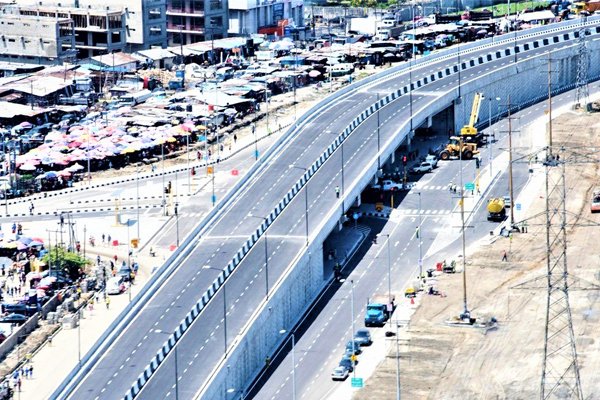 Indeed, Governor Akinwunmi Ambode has left no one in doubt that he is determined to rid Lagos state of its legendary road traffic gridlocks.
In order to achieve that, he gave his approval for flyovers to be constructed at certain locations that typically suffer terrific traffic bottlenecks.
Today, Governor Ambode has erected 2 imposing Flyover bridges: and they include the Jubilee Flyover in Ajah and the  Abuelegba Flyover .
Still, the indefatigable Governor Ambode has shown no sign of stopping.
Currently, construction work is on-going at the Agege-Pen cinema axis to erect another Flyover.
Still not satisfied, Ambode, a few weeks ago, gave approval for the construction of the Iju-Fagba Flyover.
Clearly, these are accomplishments that are well deserving of accolades.
However, there is an aspect of these accomplishments that seem to cast the current administration in uncomplimentary light.
For instance, as much as the tax-payers in Lagos state appreciate these awesome accomplishments, it is of great importance that they are made aware of  how much of their monies are invested in these projects.
Sadly, the Lagos state government does not seem to be transparent in some of its fiscal expenditure.
In Ekiti state, Gov. Ayo Fayose constructed the 1.3-kilometer Fajuyi-Ojumose overhead bridge in Ado Ekiti. It is public knowledge that the project cost N6.4billion.
Ex-Governor Rabiu Musa Kwankwaso of Kano State constructed the Kwankwasiyya Flyover. The taxpayers were well informed that the project gulped The N5.9 billion.
Ogun State Governor Ibikunle Amosun built the first flyover bridge in Abeokuta since the state was created in 1976. It was never shrouded in secrecy that the 2.4km dual carriage bridge cost N1.5 billion.
Governor Abdullahi Ganduje proposed for the construction of t new flyover which has an underpass along Zaria Road by Dangi Roundabout in Kano state. N4Billion was announced to be earmarked for its construction,.
Gov. Abiola Ajimobi of Oyo state constructed the popular 550m long flyover Mokola flyover in Ibadan. The project which included the improvement of over 1,200m long service roads and junctions with street lights,beautification of the roundabout and the space under the flyover. The project cost was of the construction was announced to be N3billion.
And so on.
However, and curiously too, Lagos state – clearly Nigeria's most progressive state – has not demonstrated certain level of transparency in some of its fiscal expenditures especially in respect of how the flyovers in Lagos state cost to build.
Indeed, and in order to enjoy the utmost accolade, it is very important that the Ambode-led government make the cost of public projects and other fiscal expenditure to be as transparent as possible.
Or, can someone who knows inform us about how much these new flyovers in Lagos state cost the tax-payers?