Lockdown: Hungry Lagosians Raid A Bus Loaded With Bread (VIDEO)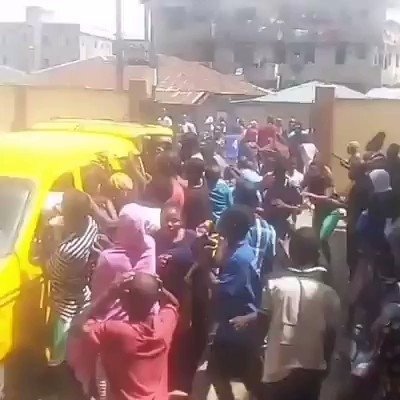 Lockdown: Hungry Lagosians Raided A Bus Loaded With Bread (VIDEO)
In a viral video, an apparently hungry mob were captured raiding a delivery bus filled with bread. The incident, reportedly, occurred in Agege, a suburb of Lagos State.
According to a report,  the delivery bus was conveying a consignment of loaves of bread to a location when the hungry mob attacked the vehicle. People around were seen scrambling to grab at least a loaf of the consignment.
This is happening during the lockdown imposed in the State. This unfortunate event further proves that There's too much hunger, too much hunger in the country.
Last night, Nigerian President Muhammadu Buhari has announced a 14-day extension to a lockdown in Lagos, Abuja and Ogun state to combat the coronavirus pandemic.
In a televised address, Buhari said "it has become necessary to extend the current restriction of movement" that was set to expire later in the day.
Initial 14-day lockdowns in the three areas began on March 30.
There are currently 323 confirmed cases of the virus in Nigeria, with 71% of them registered in Lagos and the capital territory of Abuja. Ten people have died so far.
"It is a matter of life and death," Buhari said of the nation's response. "The repercussions of any premature end to the lockdown action are unimaginable."
Nigeria, with 200 million people, is Africa's most populous nation. Some 20 million reside in the megacity of Lagos.
Health experts have raised alarms over the impact of a major coronavirus outbreak. They warned that the country's unprepared and underfunded healthcare system could quickly become overwhelmed.
The extension of the lockdown is expected to add to the hardship of millions of Nigerians. These are mostly those living hand-to-mouth, often on less than one dollar a day.
Buhari said he was "fully aware of the great difficulties experienced especially by those who earn a daily wage".
"But despite these realities, we must not change the restrictions," he added.
The government has pledged a series of support measures to ease the financial pain for the most vulnerable, but there have been widespread complaints that not enough is being done for those facing hunger.
The vast majority of Nigerians depend on daily wages, they have to go out to get money and buy food to put it on the table for their families.
Buhari said compliance with the stay-at-home order and other restrictions introduced by state governors across the country had been "generally good".
Hungry Lagosians