Hyundai Launches Most Anticipated Vehicle, The Santa Cruz Pickup (Photos)
We have to admit that Hyundai Motors has had a very busy year with new models all over the place. Now the Korean automaker has just released its 1st ever pickup in the guise of Santa Cruz. In looks, the Santa Cruz is not your traditional truck its styling is based on a crossover SUV. It is obvious that the Santa Cruz and Tucson share a lot of things in common.
Hyundai insists that its latest creation, despite having the characteristics of a pickup, is not a pickup but a  Sport-Adventure Vehicle. Whatever Hyundai is calling it, it definitely has the charm and with its youthful appeal, this may break grounds. Production of the Santa Cruz will be handled at Hyundai's plant in Montgomery, Alabama. The plant is where the Elantra, Sonata, Santa Fe and new 2022 Tucson are bolted together. Hyundai spent $410 million in preparing the plant for the production of the compact pickup.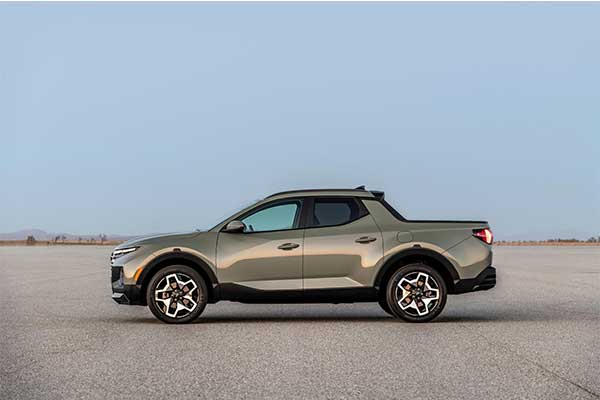 The Santa Cruz measures 195.7 inches long and 75 inches wide, while it stands just 66.7 inches tall. The wheelbase is 118.3 inches, making it 6.9 inches shorter than that of the Honda Ridgeline. The Santa Cruz is not a Toyota Tacoma or a Nissan Frontier and it's not as capable offroad as those trucks but this is something different, and it feels more like a crossover. That may be because it's a unibody vehicle and not a ladder frame like most trucks.
Inside, you get an eight-inch touchscreen infotainment display as standard, with wireless Apple CarPlay and Android Auto available alongside a wireless smartphone charger. You also get storage bins under the rear seats, and that rear load bed can be secured with a locking tonneau cover, so there's loads of practicality to be had with this "SAV". Optionally available is a 10-inch touchscreen infotainment display with a driver display of matching size. Furthermore, a digital key connected to a smartphone app, along with a Bose eight-speaker sound system is some of the options.
The Santa Cruz is available with two fuel-efficient 2.5-litre engines. First is a 190 hp, 180 lb-ft of torque naturally aspirated unit and a turbocharged 275 hp and 310 lb-ft. The naturally aspirated engine is paired to an 8-speed automatic transmission. Hyundai said they've designed it specifically for duty here, with short low gears for off-the-line grunt and longer higher gear ratios for quiet and efficient highway driving. The turbocharged engine, meanwhile, is paired to a dual-clutch transmission with wheel-mounted shift paddles.  AWD is standard across all the range.