Iconic Mercedes-Benz CLK GTR Set For Auction And May Cost $10m (Photos)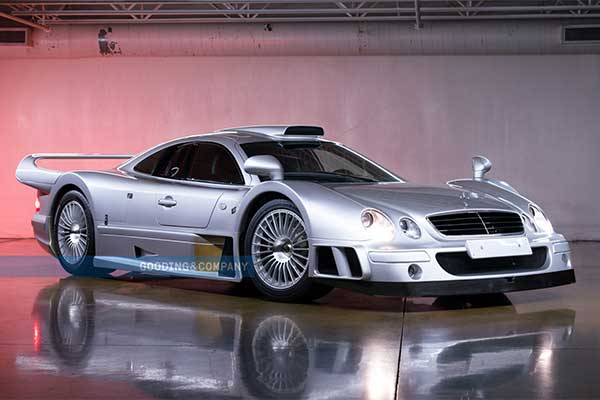 An ultra-rare 1998 Mercedes-Benz CLK GTR is heading to auction next month and is expected to sell for between $8.5 million and $10 million.
The CLK GTR won the FIA GT championship in 1997, taking victory in six of 11 races. Mercedes introduced an upgraded CLK LM version for 1998, and due to a lack of competition, dominated the FIA GT championship that year, winning all 10 races.
Rule changes after the 1998 season freed Mercedes from the obligation to sell a road-going version of its race car, so the automaker fielded the CLR for 1999. That car had a disastrous outing at the 24 Hours of Le Mans that year, with aerodynamic issues causing multiple high-speed flips.
In total, apart from two prototypes, 26 road-going CLK GTR models were built for customers, 20 Coupes and 6 Roadsters. This 1998 example being auctioned off by Gooding & Company is the ninth of the 26 cars built and was sold new in 1997 to Hermann-Dieter Eschmann in Germany. Eschmann owned the car until around 2005 when it was sold to a private collector in Hong Kong. In 2017, the car was purchased by Cheval Trust in Seattle and imported under the Show or Display exemption.
The CLK GTR is powered by a Mercedes-AMG 6.9-liter naturally aspirated V12 that later served as the base for the 7.3-litre engine used in the CLK GTR Super Sport and various Pagani Zonda models. It pumps out 604 hp at 6,800 rpm and 572 lb-ft of torque at 5,250 rpm, allowing the car to hit 62 mph in just 3.8 seconds and a 214 mph top speed.
The current consignor bought the car in 2017 and it currently has just 1,442 km (896 miles) on the clock.