Julius Berger, CRCCCI Nigeria, CCECC, 36 Others Jostle To Build The 38km Lagos Fourth Mainland Bridge
The proposed 38 km long Lagos Fourth Mainland Bridge, will, when completed, become the longest bridge in Africa. Currently, the 20.5 km (12.7 mi) 6th October Bridge in Cairo, Egypt, is the longest in Africa.
The Lagos State Government on Wednesday unveiled 39 construction companies who are jostling for the construction of the proposed Lagos fourth Mainland Bridge.
Some of the construction companies that expressed interest in the project includes Julius Berger; China Civil Engineering Construction Corporation (CCECC); Kyeryong Construction Company; Pythgoras Holdings and CRCCCI Nigeria.
Others are China State Construction and Engineering Corporation Nigeria Ltd; Bua International Ltd; China Jiangxi for International Economic and Technical Cooperation, among others.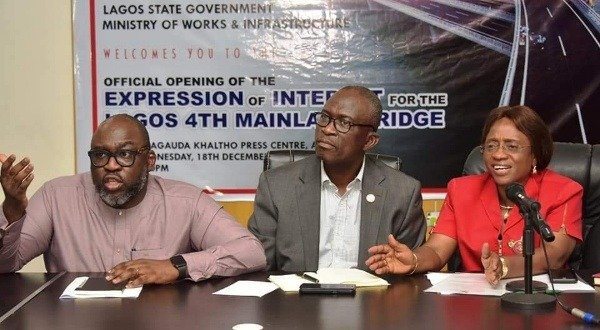 The Special Adviser to Governor Babajide Sanwo-Olu on Works and Infrastructure, Aramide Adeyoye, said the bid opening was the first of the six stages before a winner would be selected.
Describing the process as very transparent, Adeyoye said the next step of evaluation will begin soon. She added that the construction companies that qualified for the next stage would be contacted.
The proposed 38 km long Fourth Mainland Bridge, will, when completed become the longest bridge in Africa. It will connect Lagos Island by way of Lekki, Langbasa, and Baiyeku towns and across Lagos Lagoon to Itamaga, in Ikorodu.
The bridge is one of the priority solutions to relieve the 11.8 km 3rd Mainland bridge of severe congestion. It will also open up new areas of Lagos State for future development and distribute socio-economic growth across the State.