Kia EV5 Compact SUV Makes Its Official Debut In China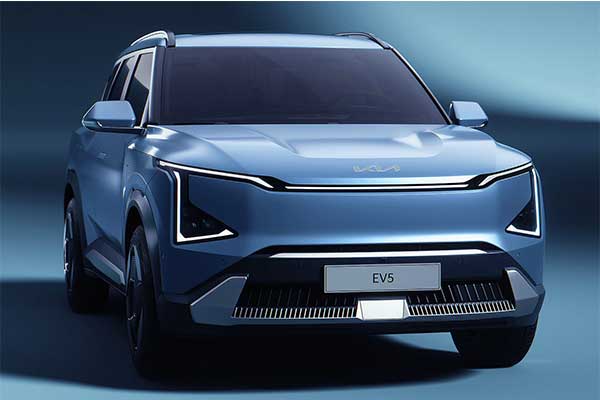 Kia unveiled its latest EV masterpiece, the Kia EV5 compact SUV. And if you think it looks familiar – that's because the new EV5 heavily borrows on styling from its bigger sibling, the EV9. Calling the EV5 a mini EV9 you wouldn't be wrong – although Kia's PR team probably wouldn't be too impressed.
The EV5 boasts a design inspired by both natural landscapes and modern architecture, according to the official press release. The term 'Tiger Face' isn't about jungle adventures but Kia's innovative design and the EV5 flaunt it splendidly. Add to this the "Signature Star Map Lighting", and you're riding in a constellation – or at least, that's the idea. We can't help but see the EV9 whichever way we look – but that's not a bad thing.
Size matters in the SUV game and the EV5 finds itself at the shorter end of the scale. At 4,615 mm it is exactly 135 mm shorter than the Tesla Model Y. With its 2,750 mm wheelbase it sits right between the Model Y and the new Hyundai Kona Electric.
When it comes to color options for the new EV5, it seems Kia has gone all out. From the glistening 'Snow White Pearl', 'Starry Night Black', 'Ivory Silver' to the audacious 'Magma Red', Kia's not skimping on the glitz, at least when it comes to names.
Ever thought of your vehicle as an extension of your living room? Neither did we, until now. Kia is reimagining vehicle interiors, turning the EV5's space into something resembling your home lounge. Imagine settling into your car as if it were your favorite armchair.
The Kia EV5 will be powered by a single 160 kW electric motor (218 PS) that matches the Kona. The electrons will be delivered from a BYD-supplied Blade battery pack. Whether the global specification will vary from the Chinese version, remains to be seen.