Lamborghini Urus Facts: Top 10 Things You Need to Know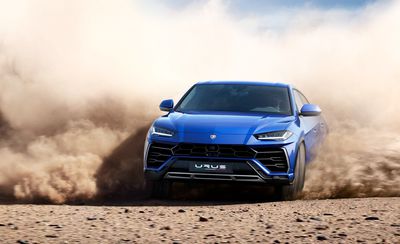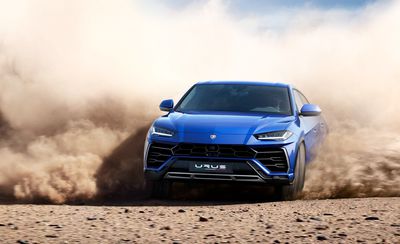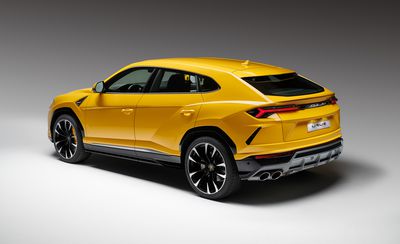 The Lamborghini Urus is one of the most highly anticipated and equally loved and despised cars of the year.
This unique vehicle introduces a lot of firsts for Lamborghini and people are mega interested in this luxurious, high-performance crossover, and for good reasons.
Here are 10 things you need to know about it.
10. It's an SSUV
The first thing you need to know is that Lamborghini doesn't call it an SUV, preferring the term Super Sports Utility Vehicle (SSUV). This is the second SUV it has ever made, and the last one was the Rambo Lambo LM002 in the '80s.
9. It's the First Turbocharged Model in Lamborghini History
The all-wheel-drive Urus is powered by a 4.0-liter twin-turbo V8 that is shared with Audi. Until now, all Lamborghinis have been naturally aspirated.
8. A lot of Engine, a lot of Tech
That engine outputs 650 horsepower and 627 pound-feet of torque. The V8 is paired to an eight-speed automatic. There is also active torque vectoring from the front to back axles and between the rear tires, thanks to center and rear differentials. Torque is split 40/60 front and rear as standard, but up to 70 percent of the torque can be sent to the front or 87 percent to the rear.
7. It's Fast
That impressive powertrain allowed Lamborghini to claim the title of fastest SUV in the world, with a top speed of 190 mph (305 km/h). Zero to 60 mph happens in just 3.6 seconds.The Hellcat-powered Jeep Grand Cherokee Trackhawk does it in 3.5 seconds. So the Urus has the outright fastest top speed, but it's not the quickest SUV in the world.
6. The Brakes are Massive
The Urus has the biggest brake rotors ever on a production car. Carbon ceramics are standard and they measure 17.3 inches up front and 14.6 inches in the rear.
5. Huge Wheels
Complementing those huge brakes are huge standard 21-inch wheels. Even bigger 22- or 23-inch wheels paired with specially developed Pirelli P Zero Corsa tires are also available.
4. Impressive Weight
The Urus has a curb weight under 4,850 pounds (2,200 kilograms), making it the SUV with the best power-to-weight ratio. Weight management was a huge reason why it has a V8 and not a V10 or V12.
3. Six Different Driving Modes
The Urus has six different driving modes, all of which are in Italian. Translated, those modes are Sand, Snow, and Soil/Dirt for off-roading, and then Track, Sport, and Street for performance and everyday driving. There's also an EGO mode that is customizable.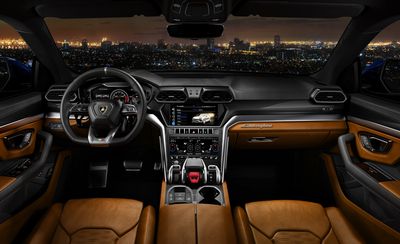 2. The Interior is All Lamborghini
The Urus' interior is still inspired by fighter jets. It has three TFT screens, one for the instruments and gauges, and two touchscreens that take care of infotainment and HVAC controls. It also has a virtual keyboard that recognizes handwriting.
The Urus is also the first Lamborghini to come with driver assistance technology like adaptive cruise control, automatic emergency braking, high beam assist, a top-view parking camera, a trailer backup mode, and tech including Android Auto and Apple CarPlay, wireless charging, and a head-up display.
1. Pricing and Availability
The Lamborghini Urus will be priced from $200,000 and deliveries will begin in late 2018. Unfortunately, they're sold out for the rest of the year and most of 2019 as well. The Urus is expected to double Lamborghini's global sales which means about 3,185 Urus models are bound to find new homes this year.
Credits Autoguide