Lotus Emeya EV Set For November 17th Release Date For China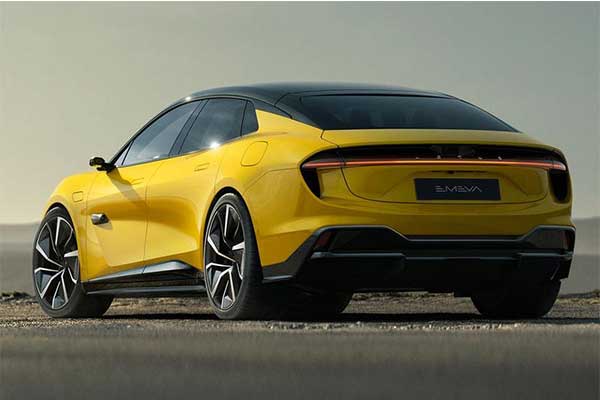 The Lotus Emeya EV is poised to make its grand debut at the Guangzhou Auto Show on November 17, 2023. The Emeya will be the second mass-produced EV by Lotus, following the successful launch of the SUV Eletre. This electric sedan is challenging established players like the Tesla Model S Plaid and Porsche Taycan.
At the heart of Emeya's appeal is its blistering performance. The vehicle boasts jaw-dropping acceleration, clocking 0-100 km/h in a mere 2.78 seconds. This feat is going to be reserved for the more powerful 675 kW or 905 horsepower version, but there will also be a comparatively conservative AWD model with 450 kW/603 hp output. Both of those will maintain the practicality of a 4-door, 5-seater sedan.
The Emeya is a substantial vehicle, measuring 5,139 mm in length, 2,005 mm in width, and 1,464 mm in height. Its wheelbase stretches to 3,069 mm, promising ample interior space. The top speed will be electronically limited to 256 km/h.
The Emeya will be built on an 800V architecture that will enable super-fast charging; up to 180 km of range can be restored in just 5 minutes using a 350 kW supercharger. The battery, a robust 102 kWh unit from CATL, pushes the weight to 2,565 kg. The Emeya will weigh as much as several Lotus cars from the past, but it should offer an impressive range to make up for that.
The technological prowess of the Emeya extends beyond its electric powertrain. It is equipped with two Qualcomm Snapdragon 8155 chips, four LiDARs, and two Nvidia Orin X chips, enabling advanced assisted driving.
The Emeya's record-breaking lap time of 1 minute, 35 seconds at the Zhejiang International Circuit in China is a testament to its capabilities. This performance version, the Lotus Emeya R+, now holds the title of the fastest EV on this famous track, underscoring the vehicle's exceptional handling.