Maserati Has Unveiled The MC20 Cielo Convertible Model With A Glass Roof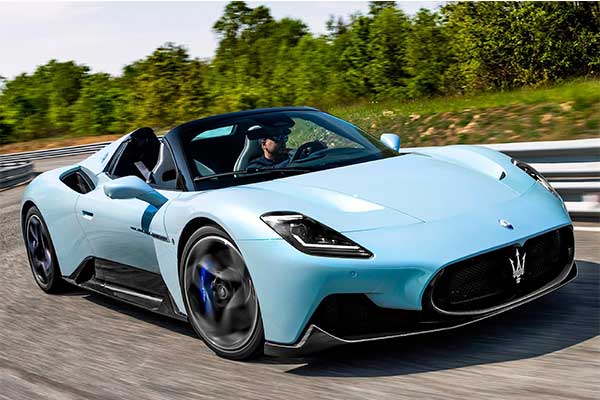 Maserati has revealed the MC20 Cielo, a roadster version of the mid-engined MC20 junior supercar. "Cielo" means sky in Italian, which makes it a pretty apt name for a mid-engined car that at the touch of a button can stash its hardtop under the rear deck-lid in just 12 seconds, and whose Webasto glass roof panel can be turned from clear to opaque, also with the tap of a finger.
There is a weight penalty of 143 pounds (resulting in a curb weight of 3,395 pounds), though this will be hard to notice from behind the wheel. Such a small weight penalty was made possible due to the MC20's carbon-fibre monocoque structure which didn't require any additional reinforcements, as it was developed from the onset to support the roofless version of the car. It was also developed to support a battery for a planned electric version of the MC20 likely to be called the MC20 Folgore.
Maserati has introduced some new safety and infotainment updates. These include automatic emergency braking, traffic sign recognition, and a 360-degree camera, so you don't curb those expensive wheels. The Cielo comes with Maserati's Sonus audio system, which has 12 speakers, as standard – impressive for a car this size.
The MC20 Cielo uses the same Nettuno V6 that powers the MC20 coupe. The 3.0-litre engine makes the same 621 horsepower (456 kilowatts) and 538 pound-feet (730 Newton-meters) of torque. The engine pairs with an eight-speed dual-clutch gearbox, and it has a top speed of over 198 miles per hour (320 kilometres per hour).
There will be a special PrimaSerie Launch Edition version of the MC20 Cielo. Limited to just 60 units worldwide, the cars will come with extra equipment including some exclusive items, one of which is a unique combination of the new colour Acquamarina for the body, coupled with wheels finished in matte black and featuring a "PrimaSerie" script.