Mercedes-Benz launches The EQT Concept, An Electric Version Of The Future T-Class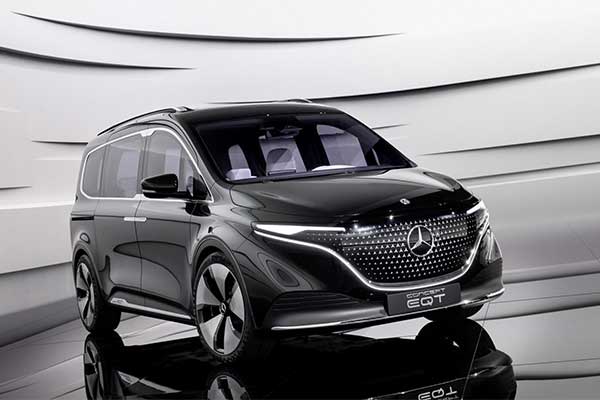 The electric vehicles continue to pour out of Mercedes-Benz, and today marks the debut of another, the Concept EQT. It's the first glimpse we have of Mercedes' new compact T-Class van, and it's meant to be a faithful representation of what the production EQT will look like. Mercedes says there will also be gasoline and diesel versions of the T-Class, but the electric concept vehicle here is how Mercedes is choosing to introduce it.
Mercedes described the Concept EQT as a "near-series-production" vehicle, suggesting that the production version will be styled closely to what you see here. It measures 194.6 inches in length, features sliding doors, and has seven seats split over three rows. Mercedes hasn't mentioned storage volume, though the automaker said the third-row seats can be folded or removed completely to maximize storage.
Like other EQ models, the zero-emissions van adopts a full-width LED light bar at the back where the generously sized tailgate makes it easy to manoeuvre cargo. Much like the entire greenhouse, the rear window is quite large and improves visibility. Speaking of glass surfaces, a massive panoramic sunroof should make the cabin feel airy.
As expected, both versions of the small van (T-Class and EQT) will feature the MBUX infotainment system, with the electric version including displays for charging current, energy flow, and consumption. Other information like the battery capacity and range is unknown but since it's based on the Renault Kangoo expect a similar powertrain.