What You Should Do If You Mistakenly Swallow Fuel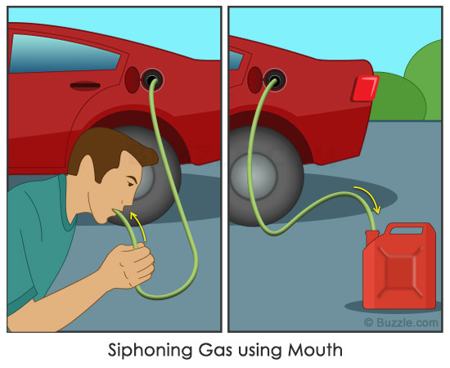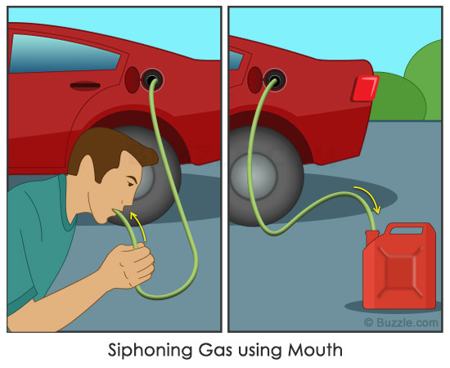 Nigerians O Nigerians,my ever unique and mysterious people.Drop that hose you about to suck from and read this .
Though this is not common to only Nigerians ,we do it a lot ,even in situations that does not warrant it.So what if you mistakenly swallow fuel,what should you do ?.
Before I get into this ,know that swallowing fuel can cause various things including loss of vision.
Lets get right in !
1.Be Calm
When this happens be calm , don't panic unnecessarily .Just be calm and go to where there is fresh air and take deep calm breaths.
2. Don't Try To Induce Vomiting
Induced or forced vomiting can actually do more harm than good as they can cause harm to the lungs ,so don't try to induce vomiting .
3.Take Water
Drink enough clean water ,don't rush ,just do it calmly.Some doctors advice you should take juice.I would not advice Nigerians to take juice or any other beverage due to the recent confusion on drinks we should take and shouldn't .One of them starts with "F" and another recently discovered starts with "L" .
Don't drink milk or even alcohol just water would be fine.
4.Don't Smoke Or Take Alcohol
Well, this is self explanatory except you want a mini nuclear apocalypse to take place .And this is not just immediately ,avoid it for as long as 72 hours if possible for longer.
5.Go To The Hospital
Just to be on a safe side ,get yourself checked and fixed up by a trained personnel as soon as possible.This is definitely not a time to take any "agbo" or see any herbalist.Go to a real hospital !.
Next time just use a siphon and not your mouth.
Did you find this interesting ?
Lets know your thoughts in the comments below .
Also don't forget to download our app and subscribe to our newsletter.
I have more awesome articles coming up !.
References
http://www.nytimes.com/health/guides/poison/fuel-oil/overview.html
https://medlineplus.gov/ency/article/002895.htm
http://www.wikihow.com/Help-Someone-Who-Has-Swallowed-Gasoline