The New 2018 Toyota Prado Is Here. What Do You Think? (Photos)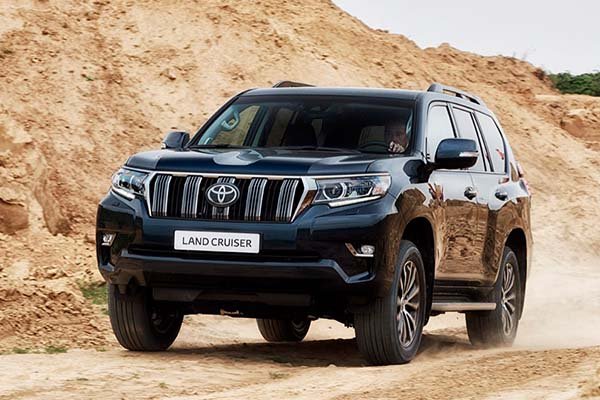 This is the new 2018 Toyota Prado you have been waiting for. Some say it only got a facelift and no a rear lift. The back still looks like the 2008 Lexus GX470 and the 2009 Prado but the cabin has got some upgrades.
It was just revealed for the Frankfurt Motor Show and it should be on our roads in November.
It features a new dashboard design incorporates the large, 8 inch Toyota Touch 2 with Go multimedia system, Optitron driver's meters, and a steering wheel switchgear-controlled 4.2'' Multi-information Display. It also comes with 2.7 VVT-i engine with 161 HP or 4.0 VVT-i petrol engine with 245 HP.
The face gets newly designed bonnet, radiator grille, headlamps, front bumper and fenders but is it any finer than the outgoing model? Tell us in the comment section.
You can opt for the six-spoke 17" alloys, gloss painted 18'' alloys, or a new, 12-spoke, machined finish 19'' alloy wheel design.
See Related Post Unbelievable: See What This Guy Did To His Toyota Camry Pencil Light
The high grade models with automatic transmission come equipped with 'Toyota Safety Sense', a set of active safety technologies designed to help prevent or mitigate collisions across a wide range of traffic situations.
Combining a camera and millimetre-wave radar for a high level of detection performance, the Land Cruiser's Toyota Safety Sense system features a Pre-Collision System (PCS) with a Pedestrian Detection function, Adaptive Cruise Control (ACC), Lane Departure Alert (LDA), and Automatic High Beam (AHB) technology.
Further driver support and safety enhancing systems include a Blind Spot Monitor (BSM) with Rear Cross Traffic Alert (RCTA) and an upgraded Tyre Pressure Warning System (TPWS).
Price is yet to be revealed, but expected to be north of N30m.
See Related Post Unbelievable: See What This Guy Did To His Toyota Camry Pencil Light