Nigerian Shares His Experience With A Panel Beater Who Failed To Tighten His Tyres Properly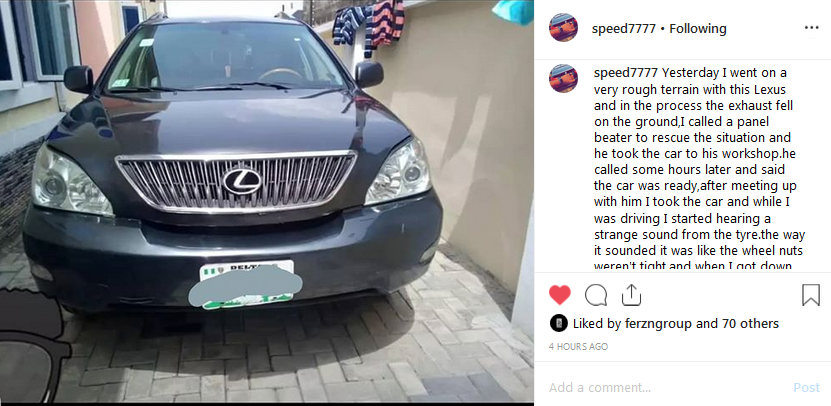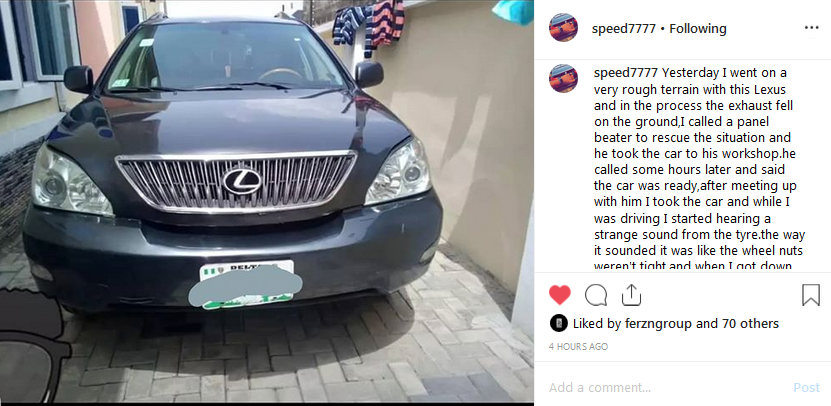 We often bring up stories like this from people so that you can learn from it and not become a victim too. A Nigerian known as Speed7777 on Instagram shared what he experienced after a panel beater worked on his car and failed to tighten his tyres.
According to his narratives, he was lucky because he paid attention to the noise he heard coming from the car while driving. Had it been he neglected and continued driving, the tyre might have gone off which will lead to him losing control of the car. You know what that means.
Read his story below;
Yesterday I went on a very rough terrain with this Lexus and in the process the exhaust fell on the ground,I called a panel beater to rescue the situation and he took the car to his workshop.he called some hours later and said the car was ready,after meeting up with him I took the car and while I was driving I started hearing a strange sound from the tyre.the way it sounded it was like the wheel nuts weren't tight,and when I got down to check all 5 wheel nuts were not tight,I called the panel beater and he denied loosing the tire(na em I go back give am slap before e talk true).the thing is if I had continued driving the car the tyre would have given way and I would have lost control of the vehicle.the whole point of the story is when you have a car you should be cautious about different sounds(it will help you),has soon as I heard this sound I knew it was the tyre and parked jejely.this is why i say the lifespan of you car is between you and your mechanic,the panel beater was careless but I was able to still save the situation
Always pay good attention when driving. When you hear unusual sounds, try as much as you can to find out what the problem might be. Doing so will always go a long way for you rather than giving you disaster.