Old School Range Rover Gets The Tesla Electric Treatment And Its Fast (Photos)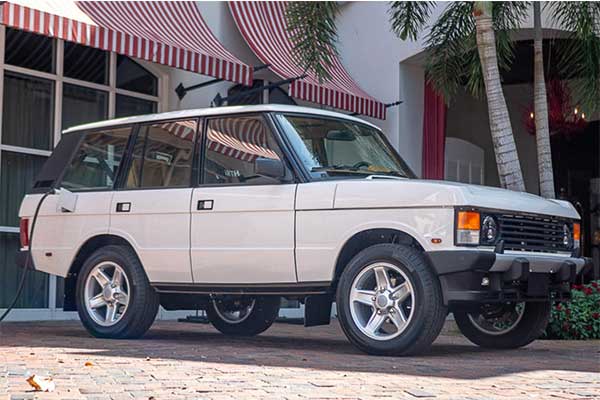 This old school Range Rover has been transformed into an electric beast by a Florida based company called E.C.D. Automotive Design. In addition to that, the old school Range Rover is now faster and quieter thanks to its electric drivetrain borrowed from a Tesla. To achieve the conversion, E.C.D. partnered with the UK's Electric Classic Cars for help with sourcing the drivetrain. From there, it spent 2,200 hours making this the perfect restomodded Ranger Rover.
The old school Range Rover looks good too especially the interior as it was stripped done to give that modern look while retaining the exterior design. It is powered by a 100-kWh battery pack with the old school Range Rover archiving 200 miles on a full charge. Furthermore, it takes 5 hours to charge and it outputs 450hp. The old school Range Rover can reportedly accelerate from 0-60 mph in 5.2 seconds. This feat makes it even faster than the latest Defender V8 model.
Now back to the interior, a new state-of-the-art audio system and an in-dash navigation system has been installed. It also gets Bluetooth connectivity, Apple CarPlay, and a backup camera to keep the bumpers smooth. The team also took time upgrading the tan leather upholstery and dark wood interior accents. E.C.D. even added a drinks cabinet at the back. The Range Rover is finished in Alpine White gloss paint, complemented with silver metal front and rear bumpers. It rides on 18-inch five-spoke wheels wrapped in Continental Cross Contact tires.