PHOTOS: Heavy Gridlock In Aba After A Commercial Bus Crashed Into A Massive Sinkhole
A commercial bus crashed into a massive sinkhole in Aba after a heavy rain caused an unexpected damage to the road.
The driver, who was able to pull himself out of the hole, walked away with minor leg injury.
Tragedy was averted on Saturday evening in Aba, Abia state after a commercial bus crashed into a massive sinkhole.
Luckily, the driver, who was the only occupant of the bus when the incident occurred at the Ahia-Udele by East Street, walked away with minor leg injury.
According to reports, the collapsed road was attributed to the heavy rain which caused an unexpected damage to the road.
The incident prevented commuters and residents from accessing the Aba/Ikot-Ekpene Highway and the Aba metropolis.
Narrating the incident, the bus driver, Mr. Daniel Victor, told reporters that the incident happened while he was on his way home.
"Actually this incident happened around after 10PM when I was returning from work."
"The rain was very heavy. The first rain came and stopped and I decided to go home before the second rain caught up with me."
"I passed through the road in the day and when I was driving, I never had it in mind that the place has demarcated."
"I was not on high speed because it was raining, but I didn't see the hole because I wasn't expecting such"
"When I saw it suddenly, I held my break, but it was too late because I was very closer to it. The water dragged me in and I fell into the hole."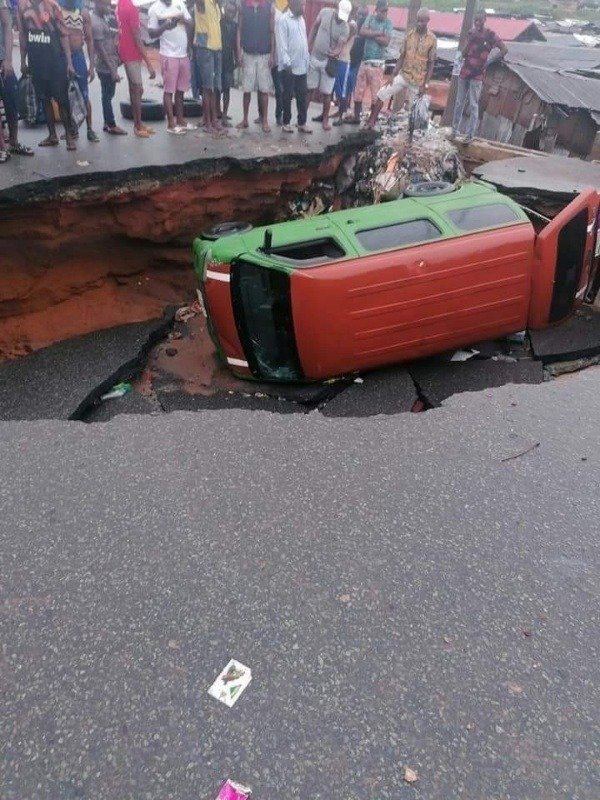 The driver also narrated how he was robbed by young men who came to the scene pretending to trying to help him.
"It was still raining and even when struggled to bring out my papers and battery, some young men I thought were coming to rescue me, came and beat me up and took my phone, my whole money and battery that I suffered to bring out from this big hole."
"They were dragging my papers before a resident from one of the nearby upstairs flashed a torchlight and they suddenly left,"
Meanwhile, the Police from Ndiegoro Division has barricaded the scene and advised residents to avoid the road for now.