Sanwo-Olu Donates 16-Seater Nissan Bus To SWAN Lagos State Chapter
The Lagos State Governor, Babajide Sanwo-Olu has donated a 16-Seater Coaster Bus to the Sports Writers Association of Nigeria (SWAN) Lagos State Chapter in fulfillment of an electioneering campaign promise to the body.
The Director-General of Lagos State Sports Commission, Mr Oluwatoyin Gafaar, presented the bus at the Teslim Balogun Stadium, Surulere.
Presenting the Nissan NV350, 16-Seater Bus to the Sports Writers on behalf of the Governor, Gafaar praised the governor's effort. He, therefore, asserted that this is another pledge kept by the sports-loving administration.
According to him, the "Sports Writers Association of Nigeria, Lagos State Chapter, is one of the critical stakeholders in grassroots sports development in the State. They are our partners in progress as far as grassroots sports development is concerned and our sports-loving Governor recognizes their efforts through the donation today".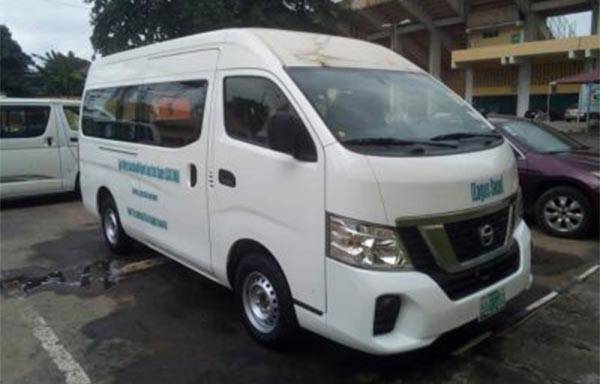 "This is in fulfilment of the promise made by Governor Babajide Olusola Sanwo-Olu to the sports family in Lagos during the campaign. Mr Governor had promised that he will develop human capital and increase efficiency. I hope Lagos SWAN will make judicious use of the donation for the development of the Association. Sport development will not lag behind", the Director-General said.
Responding, the Chairman, Lagos State Chapter of the Sports Writers Association of Nigeria (SWAN), Mr Debo Osundun, commended Governor Sanwo-Olu. He appreciated him for keeping to his promise to support the Association. He described him as a man of integrity and honour who always keeps to his words.
"COVID-19 has a little bit delayed us from acquiring the bus. Hence,We ought to have received it but other logistics challenge came up. This will help us in no small way with all of our movement. Therefore, our We movement will now be fast now in covering events in the course of our daily duties".
In 2019 during his electioneering campaign the Governor had promised Sports family in Lagos State to be of immense support. He noted that he would prioritize capacity building to make their duties of promoting grassroots sports in Lagos easy.