How A Painter In My Workshop Narrowly Escaped Being Hit By Stray Bullet From A SARS Officer – Dautodoc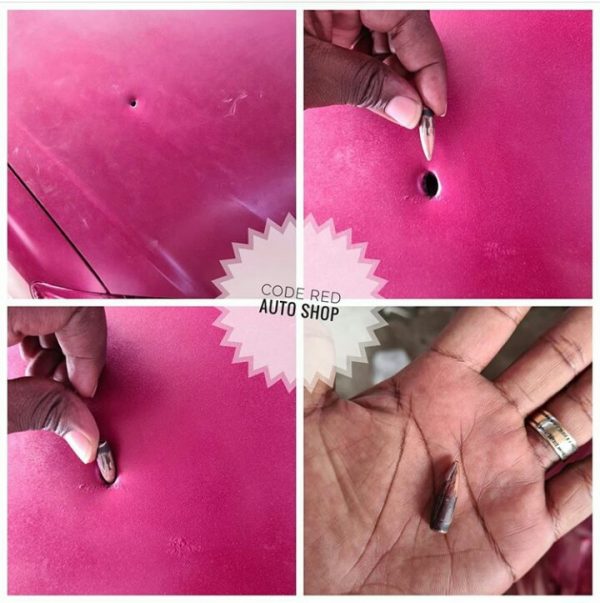 In the past few days, Nigerians have been protesting that Special Anti-Robbery Squad, simply known as SARS, should be banned. SARS is a Nigerian Police Force unit under the Force Criminal Investigation and Intelligence Department. It is headed by the Deputy Inspector General of Police.
A lot of Nigerians on various social media platforms have been narrating their experiences with SARS officials; stating reasons why they should be banned; most of these reasons point to police brutality, harassment, extortion and lots more.
A mechanic on Instagram known as dautodoc,who's into general repairs, diagnosis, body repairs, spraying and detailing, took to Instagram to narrate how his painter narrowly escaped being hit by a stray bullet released by a SARS officer.
He wrote;
It was Saturday morning, 25th of May 2020, after the partial lifting of the lockdown; I was eager to get back to work because savings were dwindling and I have a family to take care of. Graciously we had a few cars to paint so everyone swung into action, busy working as effectively as possible because curfew was announced to start 6pm.
Unknown to us, #SARS officers were in the neighborhood after hearing about the unrest caused by the 1 million boys and cultists. #SARS decided to announced their presence and dominance by shooting a few shots into the air. We had no idea about the shots fired because our 100kva generator was on and a vehicle was being sprayed in the oven at that time.
Suddenly my second painter started shouting, cursing that someone intentionally punctured a hole in the bonnet of the Toyota corolla he was prepping with a sharp tool because he only stepped away for less than 5 minutes to take a leak and came back to meet the hole in the bonnet.
They called my attention and I was baffled as well. While the argument was going on, I opened the bonnet and looked all around; then I found the #Culprit, a bullet sitting pretty on the engine protector. The argument stopped and it suddenly dawned on us that my painter narrowly missed being hit by a stray bullet.
Where would I have started if he got hit? Who would I have held responsible? How would I have proven that their careless actions killed my staff? If he was hit and we rushed him to the hospital, the doctors would demand a police report before treatment. Who made that stupid law?. How do I explain? Thank God for life, his #Grace and #Mercy. #EndSars, #endsarbrutality, #endsarsnow. Good #intentions, bad #behaviour.
Please be safe out there!
You should also feel free to share your experinces with SARS officer(s) in the comment section.
Also See: Buy and sell cars faster on Carmart NG