See The 3 Flyovers Gov. Amosun is Building At Alagbole-Akute-Ijoko (PHOTO)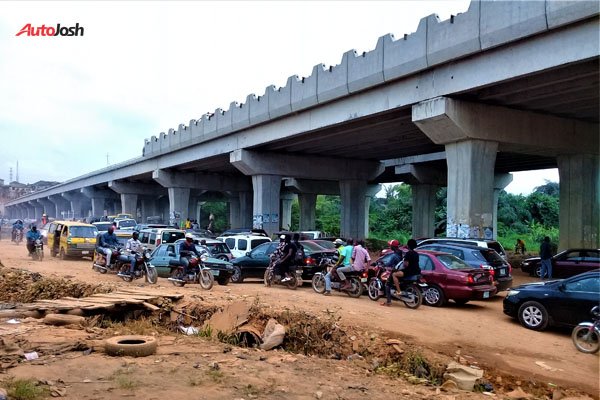 Almost 8 years ago, three (3) very close communities – with the combined land mass that is not up to Surulere – were promised 3 flyovers each.
Typically, residents of these communities received the promise with joy and great expectations.
These communities, Alagbole-Akute-Ijoko area of Ogun state, are at the Lagos-Ogun state border – and just a few minutes away from Ojodu-Berger in Lagos state.
A great number of residents of these areas work in Lagos state, although their taxes are remitted to the Ogun state government.
The 3 flyovers being constructed are located at Alagbole-Odo-Yakoyo, Akute-Ijoko and Sango-Ijoko-Abiodun-Ojodu.
The 3 flyovers are part of a 32km road construction project, that also includes the construction of  5 bridges.
The project commenced sometime in 2012 and was expected to be delivered under 30 months. Sadly, the delivery date has been surpassed by a few years shy of a decade.
Indeed, the project timeline suffered several setbacks. At different times, construction activities at these sites have suffered different states of abandonment.
All these have contributed to the enormous inconveniences and hardship suffered by residents of Lambe, Akute, Ajuwon, Ijoko, etc. Motorists also have had to put up with the most horrific road conditions at these locations.
The on and off construction activities on the some of these bridges have also cost the lives of some residents.
Indeed, the residents of these locations understand that to make omelette one must break eggs. However, preparing the omelette at these flyovers is taking far longer and more agonizing experiences than the residents bargained for.
Thankfully, in recent days, construction activities at the Alagbole-Odo-Yakoyo  flyover has picked up an impressive pace. The Sango-Ijoko flyover construction work has also resumed, although at an unimpressive pace.
Sadly, the Akute-Ijoko flyover is currently suffering total abandonment.
Hopefully, before the 2019 general elections, at least one of the 3 flyovers is expected to be completed.  At least, the politicians would need it for bragging rights.