See The Bridge That Ambode Is Building At Magodo-Alausa-Secretariat Bus-stop (PHOTOS)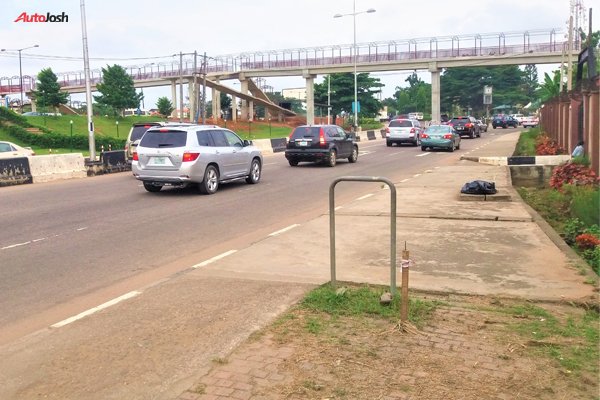 Posterity will remember Gov. Akinwunmi Ambode as one state governor that invested massively in the development and resuscitation of road and mass transit infrastructure in Lago state.
He has built roads, flyovers, pedestrians' bridges, slip roads, laybys, bus stops, bus terminals, etc.
He is also aggressively working to commence the operation of the very long overdue Lagos metroline.
Indeed, the man – Ambode – has revamped almost every area of road transport and has made mass transit less cumbersome.
Almost every resident of the state have benefitted – one way or the other – from the road reform project of the Ambode administration.
However, a group of Lagos residents are set to further benefit from the Ambode road reform project. They are residents of the Magodo 2-CBD-Alausa-Secretariat axis of the state.
For years, residents of that axis had yearned for a pedestrian bridge to enable pedestrians navigate both sides of the ever busy Lagos-Ibadan expressway section of the area.
In the past, many people have lost their lives there in an attempt to cross the road.
In response to their yearnings, the indefatigable Governor Ambode graciously approved the construction of a pedestrian Bridge at that location.
The pedestrian bridge is designed to link the Lagos State Secretariat, Alausa, with Magodo Phase 2 gate on CMD Road along Lagos-Ibadan Expressway.
Work on the bridge is currently at the concluding stage.
The Pedestrian Bridge is being constructed by the the contractor, China Civil Engineering Construction Company (CCECC).